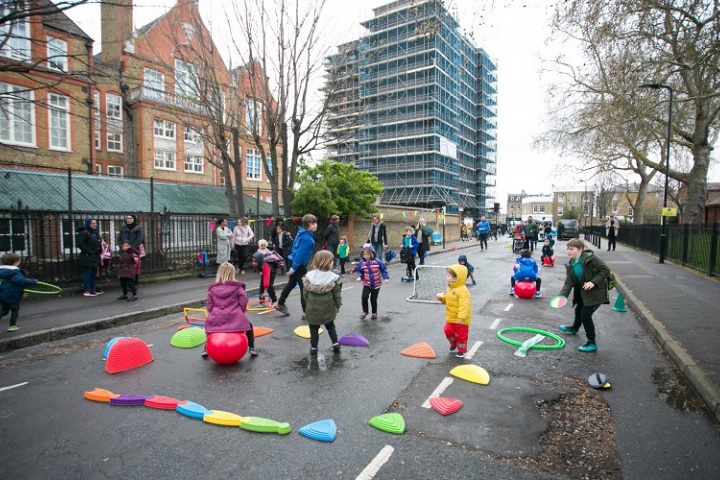 School Streets will be introduced at almost every primary school in Hackney by September, as part of 'radical' plans to protect vulnerable road users from an increase in traffic as lockdown eases. 
Hackney Council was one of the first local authorities in the country to introduce School Streets – where motor traffic is banned from outside schools at peak times.
Schemes are already in place at nine schools in the borough, with evidence from the first four showing that traffic has reduced by an average of 68% – while the number of children cycling to school has increased by 51%.
In May 2019,  Hackney Council published a free guide to support other councils nationwide to launch their own schemes.
The rollout of School Streets to 40 new schools follows a successful bid for £350k from Transport for London's Streetspace programme. The council will implement the scheme, contributing an additional £100k towards the project. 
Hackney Council hopes the schemes will help to reclaim roads outside schools from motor traffic, aid social distancing, improve air quality at the school gates, and make it easier for children to walk and cycle to school.
Cllr Jon Burke, Hackney Council cabinet member for transport, said: "We're under no illusions about the scale of intervention required to support walking and cycling, and protect people from increased traffic as lockdown eases. 
"If we're to prevent the secondary effects of coronavirus from exacerbating the existing issues of road safety, deadly air pollution, and the transport emissions driving the climate emergency, then we have to act now."
Will Norman, London's walking and cycling commissioner, said: "With limited capacity on public transport due to social distancing rules and increasing numbers of children returning to schools, it's really important for everyone's safety that as many of these journeys as possible are instead made either on foot or by bike. 
"Too often, roads around schools at drop off and pick up times are dominated by cars and our investment with Hackney in School Streets will make it easier and safer for people to choose greener, healthier ways of getting to school."
---