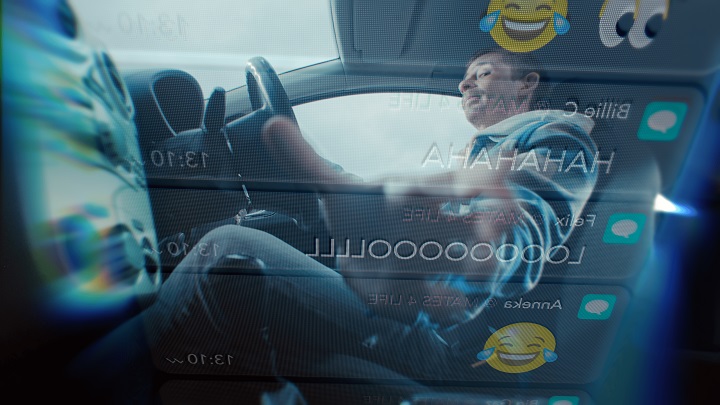 THINK! has launched a new campaign to reduce handheld phone use among young drivers, drawing on the power of influence and respect between mates to help 'tackle the temptation'.
The campaign has been launched to coincide with a strengthening of the law around mobile phone use behind the wheel.
From 25 March 2022, it will be illegal to use a handheld mobile phone behind the wheel for virtually any use, including to take photos or videos, scroll through playlists or play games.
Offenders can receive a fine of up to £1,000, six points on their licence, and a driving ban.
The new campaign, 'Guardian Mates', includes a series of short films and a radio ad which use the power of influence and respect between mates to help drivers tackle the temptation to pick up their phone. 

The campaign aims to get drivers to confront their behaviour by making mates present in the issue, unexpectedly appearing in the backseat of the car to intervene and stop them picking up the phone while driving.
These films will run across Facebook, Instagram, Snapchat, Twitter and Pinterest, as well as online video and paid video on demand.
Practitioners can download the campaign assets via the THINK! website where they can also locate the stakeholder toolkit.
THINK! has a core audience of 17 to 24-year-old male drivers, who are four times more likely to be killed or seriously injured than male drivers aged 25 or over. 
However, this campaign also includes female drivers of the same age as research shows that both young male and female drivers have similar attitudes and behaviours towards mobile phone use. They also have less awareness of the law and penalties than older age groups.
---