The RAC says motorists are still suffering the effects of the harsh winter weather after revealing its patrols attended more than 5,500 pothole-related breakdowns between January and March.
The figure includes breakdowns 'likely to be attributed to damage caused by potholes and poor quality road surfaces' – such as damaged shock absorbers, broken suspension springs or distorted wheels.
At 2.3%, the percentage of total RAC breakdowns caused by potholes in Q1 2018 was the third highest since records began in 2006, but represents a marginal 0.1% fall compared with Q1 2017.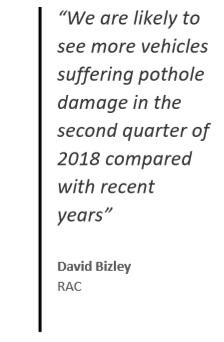 Despite the slight decline, the RAC 'Pothole Index' – a 12-month rolling average of pothole-related breakdowns – worsened slightly in Q1 2018, for a fourth successive quarter.
As of Q1 2018, the index stands at 2.63, having begun at a base of 1.0 in 2006; in Q1 2017 it stood at 2.08.
The RAC says that while the volume of pothole breakdowns may not have been as high as might have been expected considering the severity of the cold weather, it expects the second quarter of the year to be a better indicator of the true state of the country's roads.
David Bizley, RAC chief engineer, said: "Few would disagree that the harsh cold weather experienced over the last three months has led to a further deterioration of road surfaces.
"While RAC patrols saw the third highest quarterly share of pothole-related breakdowns in the first three months of 2018 the figure was not as high as we had been expecting, probably due the fact that the weather hit relatively late in the quarter.
"For this reason we feel we are likely to see more vehicles suffering pothole damage in the second quarter of 2018 compared with recent years.
"We will be monitoring the situation very closely to see what effect the harsh winter weather has had. If the index doesn't reduce or, worse still, continues to increase then this will be a very strong indication that our roads are still in a dire state of repair."
---