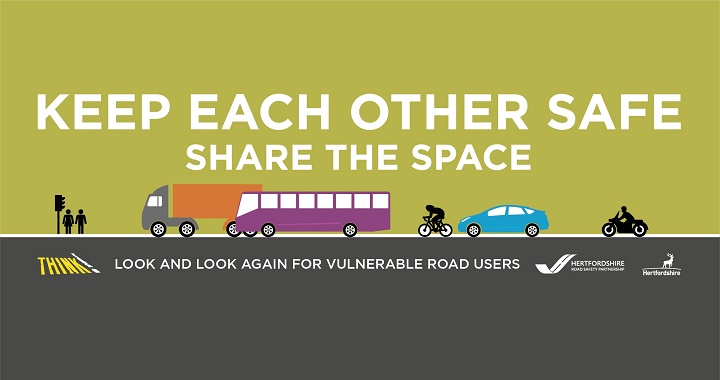 Road users in Hertfordshire are being encouraged to show respect towards each other this summer, as part of a new campaign in the county.
The Hertfordshire Road Safety Partnership campaign, which launched on 23 July, has a particular focus on vulnerable road users – such as cyclists – with a plea to give them the space and consideration required to help them keep them safe.
However, the campaign also calls on vulnerable road users to be considerate of other road users as well.
As part of the campaign, buses across Hertfordshire will be carrying the messages 'Keep each other safe share the space' and 'Look and look again for vulnerable road users'.
Simon Brown, chair of the Hertfordshire Road Safety Partnership, said: "We must respect and look out for each other when travelling as pedestrians, cyclists, drivers and riders as we all have a responsibility to ensure the safety of ourselves and others and to avoid the incidents that can be so destructive to everyone involved.
"The Partnership is keen to promote active travel for all as the benefits to health and wellbeing are manifold and this means creating an environment in which all users are considered and, importantly, feel safe."
For more information about the campaign contact Katherine Ware at the Hertfordshire Road Safety Partnership via email.
---