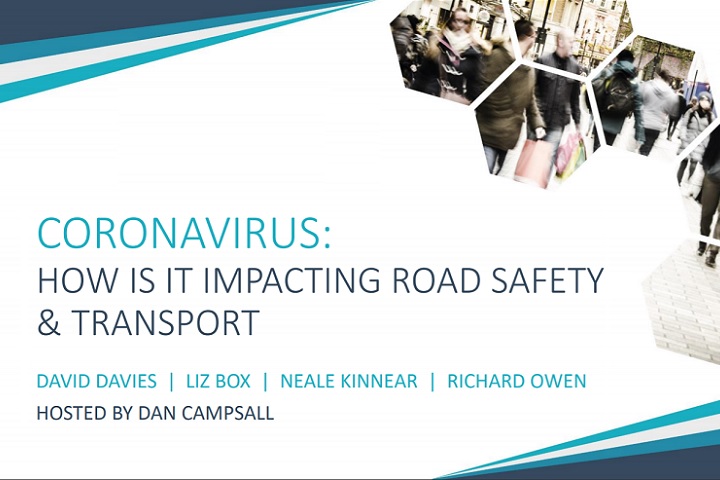 Developing an economically viable public transport system that people will feel comfortable using is one of the great challenges Government will face in the post Covid-19 era.
That was one of the stand-out conclusions of a recent webinar which looked at how coronavirus is affecting road safety and transport.
The free to attend webinar was expertly organised and delivered by Agilysis on Monday 27 April. It was hosted by Dan Campsall (Agilysis) and featured a panel comprising Liz Box (RAC Foundation) David Davies (PACTS), Neale Kinnear (TRL) and Richard Owen (Agilysis). 84 road safety professionals participated in the event, which ran for one hour and 15 minutes.
Traffic flows & vehicle speeds
Attendees heard that since 'lockdown' there has been a 66% reduction in traffic levels on motorways during weekdays – and similar reductions on local roads.
The post lockdown period has also seen a significant increase in incidences of high-end speeding.
For example, in the pre-lockdown era, just 0.5% of drivers would exceed the 30mph speed limit by 15mph, whereas now the proportion has increased to 2.5%.
There has also been a significant increase in the proportion of vehicles exceeding 60mph speed limits.
Liz Box reflected on why more people are speeding – is it because the higher speeds are the new norm or is it down to less traffic?
Without the data, Neale Kinnear said we don't really know the answer, but went on to make an assumption that people who like to speed are taking the opportunity to do so – and potentially contravening the lockdown rule about essential travel only.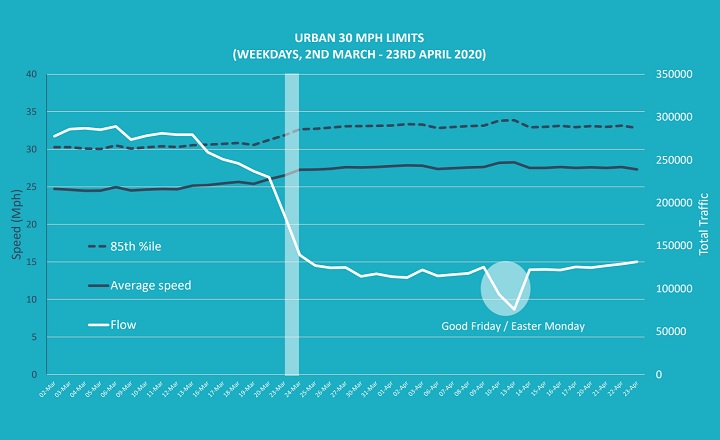 Enforcement
In a quick poll, participants were asked whether enforcement of speeding offences should remain a police priority under the current circumstances?
Perhaps unsurprisingly, given that the audience comprised road safety professionals, the vast majority (83%) said yes, with just 13% answering no – and 4% unsure.
Richard Owen suggested that fixed site speed cameras should be operating more often, but perhaps at a significantly higher threshold of, say, 45mph in a 30mph limit.
Neale Kinnear said the police indicating they are focusing on other issues is giving the wrong message to speeders.
Reducing speed limits
On the subject of reducing speed limits in the current climate, panelists agreed that the 60mph limit on rural roads is quite high. Neale Kinnear suggested there could be an opportunity to reduce this limit at the moment to help protect the NHS.
David Davies pointed to the situation in France where there is good experience of reducing the national limit from 60mph to 50mph. However, the limit change was backed by strict enforcement, which is unrealistic in the current situation.
A second poll among participants showed 37% support for lowering limits, with 45% against this move and 18% undecided.
Active travel & public transport
Panellists discussed whether we are entering a period when people could be predisposed to change behaviour based on their current positive experiences of walking and cycling.
Liz Box agreed there is a window of opportunity for change but there will be a need to balance these aspirations against the reality of whatever the 'new normal' might look like – which she described as a 'challenge for the road safety industry'.
Neale Kinnear talked about the 'stigmatising of public transport', asking when people will once again feel comfortable travelling on buses and trains. He suggested people may instead choose to use their cars, resulting in an unintended negative consequence.
Dan Campsall pointed to data which suggests car sales might increase post lockdown, as people look to avoid public transport.
Liz Box asked what does an economically viable public transport system look like in the future, given nervousness among passengers what will be an ongoing requirement for social distancing?
David Davies agreed there are some real challenges ahead for government and public transport providers.
In a poll asking about potential active travel gains as a result of covid-19, 60% anticipated some short-term gains, while 14% felt there could be longer term gains, 15% predicted no change and 11% forecast active travel losses.
What does the future hold?
Liz Box said in a highly mobile society, pandemics become more likely.
David Davies said government placing more emphasis on science and evidence should be good for road safety.
Neale Kinnear also welcomed government becoming more evidence focused, adding that parts of government were previously 'good at this', but now it is across government.
Perhaps surprisingly for a man whose focus is usually on stats and data, Richard Owen suggested we should 'go with people's feelings' and encourage them to remember how much they enjoyed active travel during the pandemic – in order to help solve problems like climate change.
---
The webinar was organised by Agilysis as part of the Standing Together series, which offers support and encouragement to road safety professionals during the coronavirus pandemic.
Click here to find out more details about future webinars.
---