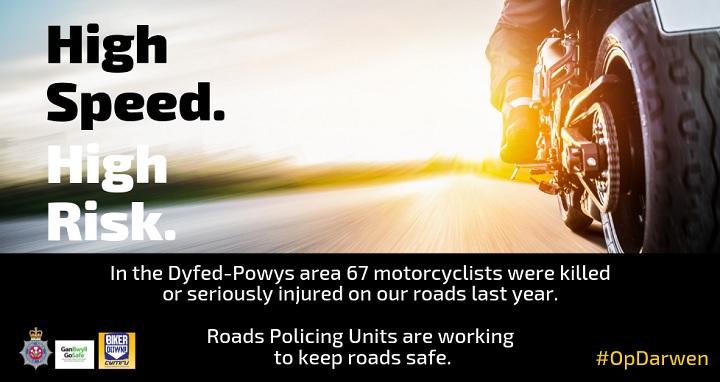 Motorcyclists in Wales are being warned about the 'high risks' associated with speeding, as part of a new campaign.
On 24 March, Dyfed-Powys Police launched #OpDarwen, an annual campaign which aims to reduce the number of motorcycle-related deaths and serious injuries on the region's roads.
As part of the operation, Dyfed-Powys Police is working with partners to educate motorcyclists and drivers about the risks of excess speed – especially on country roads.
Superintendent Craig Templeton, head of specialist operations at Dyfed-Powys Police, said: "Most fatal road collisions happen on country roads and inappropriate speed is one of the main factors.
"The national speed limit on single carriage roads is 60mph but you may need to drive under that in order to drive correctly for the conditions.
"These roads often have sharp bends, blind bends and unexpected hazards – brake carefully and give yourself time to react and stay in control."
Dyfed-Powys Police is also working to 'improve outcomes' when a collision occurs – encouraging riders to book themselves onto a free Biker Down course which teaches riders what to do if they are the first on the scene at a collision involving a fellow biker.
Supt Templeton added: "As the weather improves we see more bikers on the roads taking advantage of the stunning routes through Dyfed-Powys. As well as locals, we are seeing more and more visitors coming here to enjoy the scenery.
"We have always welcomed motorcyclists from outside our borders to enjoy the landscape, but they must be aware that Dyfed-Powys Police is doing all it can to ensure our roads are used safely by all."
Statistics show that in 2018, 67 motorcyclists were either killed or seriously injured on roads in Carmarthenshire, Ceredigion, Pembrokeshire and Powys.
---