Highways England is considering allowing drivers to travel at higher speeds through motorway roadworks during quieter periods, including Sundays.
Reported by BBC News, the move could see speed limits increased from 50mph to 60mph where there is less activity by road workers.
As part of the initiative, which is aimed at reducing drivers' frustration at roadworks, varying speed limits could also be used within one set of roadworks.

The initiative will now be tested by Highways England and, if successful, the higher speed limits would come into effect in late 2018 or early 2019.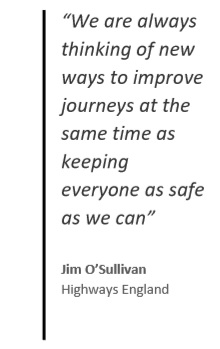 Figures show there are, on average, nearly 300 incidents each week of drivers entering coned-off areas or subjecting road workers to physical or verbal abuse on motorways or major A roads.

A study by Highways England, released in October 2017, found that 60% of drivers who drove at 60mph (rather than 50mph) through a roadworks zone experienced a decreased heart rate, indicating a reduction in frustration.
Jim O'Sullivan, Highways England chief executive, told BBC News: "People understand roadworks are necessary but are also frustrated by them.

"At the same time we have to ensure as they drive through them that they, and our road workers, are safe.

"So we are always thinking of new ways to improve journeys at the same time as keeping everyone as safe as we can.

"That is why over the next 12 months we will test changes to the design and operation of roadworks."
The RAC welcomed a trial but said continued use of average speed cameras was also 'essential'.

Simon Williams, RAC spokesman, told BBC News: "The safety of road workers is paramount but the use of average speed cameras have been very successful in controlling speed.

"Increasing the limit will do away with some of the frustration for drivers."
---