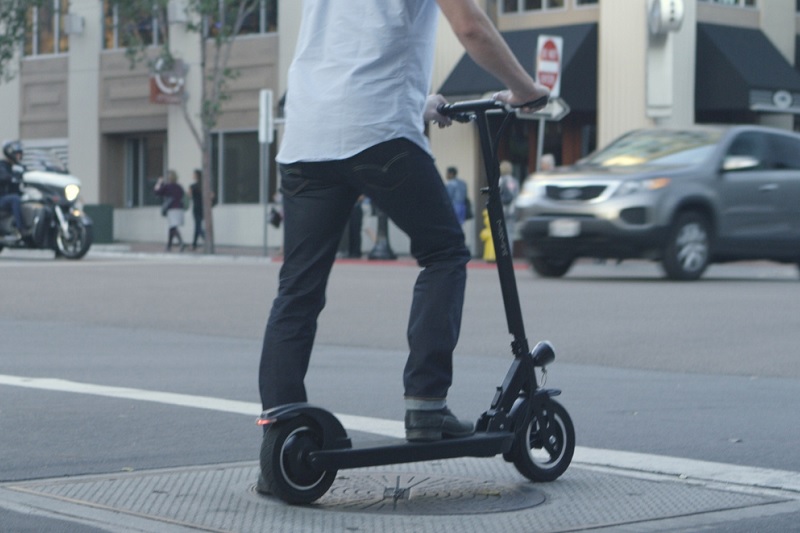 Following a surge in demand in 2020, the issue of privately owned e-scooters – and their illegality – has raised its head once again.
By Edward Seaman
Editor, Road Safety News
When talking about e-scooters, it is important to differentiate between privately owned and rental devices, which have a very different set of rules.
Trials of the latter were made legal by the Government in July 2020, having been fast tracked in a bid to ease pressure on public transport during the Covid-19 pandemic.
The trials, which are due to last 12 months, are designed to help the Government assess the benefits of e-scooters – in particular their impact on public space, motor traffic, the environment and safety.
Since July, rental e-scooter schemes have popped up in cities across the UK, including in Gloucestershire, where the local council has described the technology as an "exciting step into the future of green travel options".
Thumbs up for rental e-scooters – but what about private machines?
However, on the other side of the coin, it remains illegal to use a privately owned e-scooter on public roads, cycle lanes and pavements.
This is despite the fact retailers are free to sell them.
Confused? Well evidently so are the public.
I'm sure 99% of people reading this article will have seen a private e-scooter in operation – with a majority of those riders unaware their actions are illegal and run the risk of a £300 fine, points on their driving licence and having the device seized.
And make no mistake, in some areas, these powers are being used. 
For example, in London, the Met has seized more than 600 private e-scooters since November, according to figures reported by the BBC.
Meanwhile in December, Devon and Cornwall Police warned it would seize any private e-scooter being used in a public place – and report the rider for any offences.
Illegality shows no sign of slowing popularity
Despite these warnings, popularity continues to grow, particularly in the Covid-19 era.
In November 2020, retailer Halfords reported a surge in demand for e-scooters (BBC News), with a 71% rise in sales following the announcement of the second lockdown.
There has of course also just been Christmas, when many people will have received an e-scooter as a present.
Speaking to the Express in December, Matt Banks, Halfords e-mobility expert, said this is a trend "that shows little sign of slowing down".
Halfords warns the current national ban does not offer any protection to private e-scooter owners, and that there needs to be "a clear framework and regulation that makes them safe to ride on the UK's roads".
A plea to think about safety
Back in London, a senior Met officer has told the BBC that anyone given an e-scooter as a Christmas gift should return it.
Ch Supt Simon Ovens said buying an e-scooter as a present was "crazy" because they were a danger to riders and others – adding "they're simply not built for our roads".
This stance is supported by the Parliamentary Advisory Council for Transport Safety (PACTS), who says there are "legitimate safety concerns" behind the ban.
David Davies, executive director of PACTS, said: "It's easy to understand the frustration of police officers such as Ch Supt Simon Ovens. 
"Using privately-owned e-scooters on UK roads is illegal and there are legitimate safety concerns, both for riders and pedestrians. 
"Many retailers are happy to sell e-scooters, knowing full-well that they will be used illegally. Others, such as John Lewis, have taken a more responsible approach and stopped. 
"Meanwhile the Government is focused on the trials [of rental e-scooters] and ignoring the wider problem. With a rental scheme likely to begin soon in London, these issues will grow."
What next for private e-scooters?
Given the Government's drive towards green and modern technologies, it seems inevitable that some way down the line, private e-scooters will follow in the footsteps of rental e-scooters and be legalised – providing the outcomes of the ongoing rental trials are positive.
Of course, before that day arrives, there will need to be plenty of work to ensure they are regulated properly and safe to use.
But the fact remains, at this moment in time, they remain illegal.
There is no doubt uncertainty reigns among riders – and for good reason – with many retailers continuing to sell private e-scooters and rental schemes becoming commonplace in towns and cities.
The challenge for local authorities is to ensure the public are fully aware of the various rules – as well as the consequences breaking them – and encourage those wanting to use an e-scooter to make use of the rental schemes available.
---