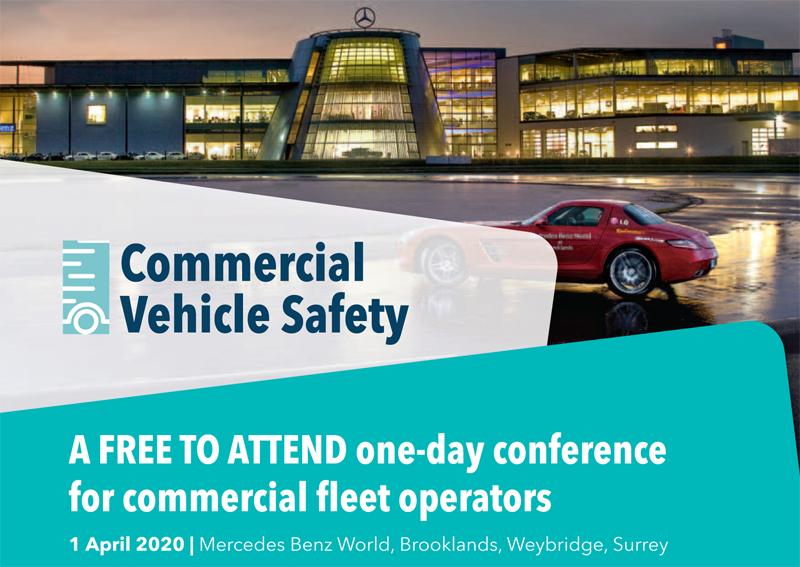 A new free-to-attend conference for commercial vehicle fleet operators across south east England will be staged in spring 2020, in a bid to improve road safety and cut collisions and casualties on the region's roads.
Statistics show that in 2018, 52 commercial vehicle drivers were killed on Britain's roads (38 LGV drivers and 14 HGV drivers), while 609 suffered serious injuries (463 LGV and 146 HGV) – making a total of 661 KSIs (501 LGV and 160 HGV). Total casualties were 4,825 (3,945 LGV and 880 HGV).
The new conference – titled 'Commercial Vehicle Safety: The Challenges & Opportunities' – will set out to understand the issues behind these statistics.
The conference is being organised by Highways England in partnership with the Driving for Better Business campaign and the five road safety partnerships in the south east – Hampshire Safer Roads Partnership, Kent Safer Roads Partnership, Surrey DriveSmart, Sussex Safer Roads Partnership and Thames Valley Safer Roads Partnership.

It is being staged at Mercedes Benz World at Brooklands near Weybridge in Surrey on 1 April 2020.
The agenda is currently under development but is likely to include presentations covering enforcement and compliance with the law, load security, vehicle technology and innovations, tyre safety and driver training.
Colin Evans, South East region safety coordinator, Highways England, said: "This conference will set out to understand the issues behind the light and heavy commercial vehicle casualty statistics, and provide a set of tools and resources to help fleet operators improve their safety performance and reduce collisions.
"We urge all owners, senior managers and fleet managers from organisations operating commercial vehicle fleets of all sizes from 3.5 tonne upwards to either attend themselves or ensure their organisation is represented at the conference."
There are just 90 delegate places available at the conference, which will be allocated on a strictly 'first come, first served' basis.
For more information, or to register to attend (FOC), visit the conference website or contact Nick Rawlings or Sally Bartrum on 01379 650112.
---