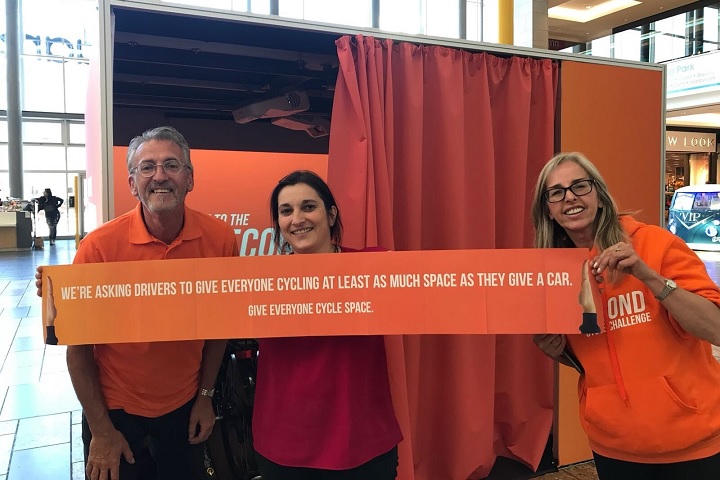 An interactive simulator is being used to highlight to drivers in Scotland what a cyclist experiences during a close pass.
The simulator has been developed by Cycling Scotland as part of its flagship road safety awareness campaign, Give Everyone Cycle Space.
For the past six years, the campaign has used roadway signage, bus rears, petrol nozzles, radio and TV ads to educate drivers on the correct distance to allow when overtaking cyclists.
However, in 2018 Cycling Scotland developed a new interactive simulator, which toured shopping centres in Aberdeen, Dundee and Glasgow, inviting drivers to try out a '30 second cycle challenge'.
Participants enter a room and climb on a static bike and set off pedalling accompanied by audio and visual of a road.
After a period of time, a moving wall to their right closes in on them, simulating a close pass of an overtaking car.
Cycling Scotland says many of the 800 participants said the experience would make them 'think and behave differently' when overtaking people on bikes in the future.
Clare Skelton-Morris, Cycling Scotland's marketing and communications officer, said: "With high levels of recall and almost two-thirds of interviewees saying that they knew to give 'as much space as you would give a car' when overtaking, it's clear that the campaign is memorable and that the key message is understood.
"We know, however, that there's still work to do to change attitudes and behaviours. Drivers were less likely to say that they felt confident when overtaking cyclists and insight shows that leaving enough space to pass bikes is the least likely good practice a driver will follow.
"We're looking forward to next year's campaign and continuing to work towards making Scotland's roads safer for vulnerable road users."
---