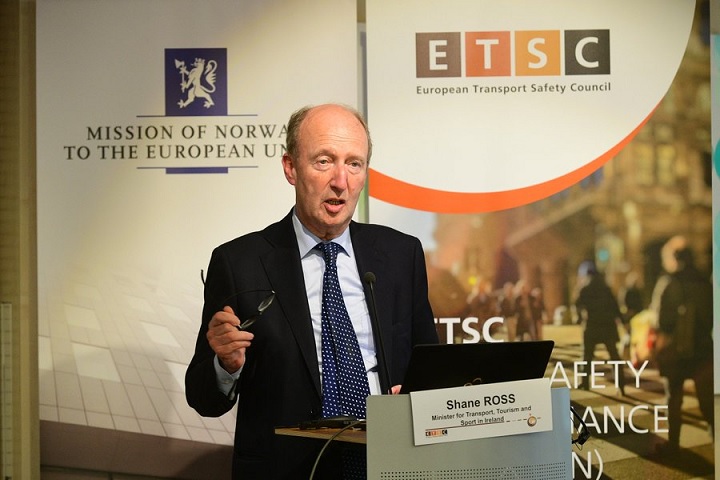 Ireland has been praised for its 'strategic approach' to road safety after bucking the trend and reducing annual deaths by more than 30% since 2010.
Figures published by the EU earlier this year show in 2018, there were approximately 25,100 road fatalities in the 28 member countries – only 3% fewer than 2013, when there were 26,000 deaths.
Ireland's efforts, which has seen it become the second safest EU county, have been recognised with the 2019 ETSC Road Safety Performance Index (PIN) Award – presented to a nation that has demonstrated 'continued progress on road safety'.
According to the ETSC, Ireland's performance has been driven by the establishment of a specific government road safety agency – the Road Safety Authority (RSA).
The ETSC has also praised Ireland's long-term strategic plan to cut road deaths, which includes specific targets, regular evaluation and follow-up, and multi-agency collaboration.
The award was presented to Shane Ross (pictured), the Irish minister for transport, tourism and sport in Brussels on 19 June.
Antonio Avenoso, ETSC executive director, said: "Ireland has made great progress on road safety in recent years, while at the same time recognising areas where it still needs to do more – such as improving the safety of cycling.  
"What stands out is the strategic approach: analysing the data, setting targets, and making sure the job gets done.  
"If every country in Europe could get to the same level of safety as Ireland, we could cut road deaths by 40%. As it is, many countries are standing still and even going backwards.  
"We can learn a lot from Ireland's approach – it's a model for the European Union."
---