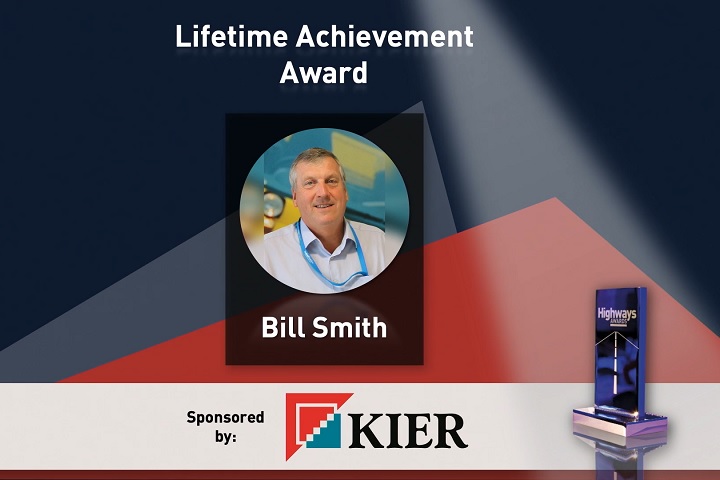 Bill Smith, senior engineer (road safety) at Amey Consulting, has been praised for his leadership and innovation after being presented with the Lifetime Achievement accolade at the 2021 Highways Awards.
The first ever virtual Highways Awards took place on 28 January and were hosted by radio and TV presenter Colin Murray.
The final gong of the ceremony, the Lifetime Achievement award, was presented to Bill Smith, recognising his 40-year career in road safety.
Since starting his career in the 1970s, Bill has worked with a number of local authorities, including Strathclyde Regional Council and Glasgow City Council.
Among his many achievements, Bill led the team who developed the Kerbcraft training programme. He also picked up a Prince Michael International Road Safety Award for Danger Zone, an experiential learning centre.
In 2019 he was recipient of the Lynda Chalker Award which is presented annually by Road Safety GB to reward an individual or organisation that has contributed significantly to road safety in the UK.
The Highways Awards' judges described Bill as someone who has "dedicated his life to the highways sector and whose passion, leadership, innovation and team work continues".
Joe Incutti, group managing director, Kier Highways (who sponsored the award), said: "[This award has been] given to an individual that has dedicated their entire working life to highways in both the public and private sector.
"He is a true hero with unparalleled passion and commitment."
Among the other awards presented was the Road Safety Scheme of the Year, which went to the Metropolitan Police and Transport for London for their efforts to reduce casualties on the A10.
Road safety operations began on the A10 in May 2019, after complaints from the public about dangerous driving.
Initiatives have included roadside checks by police, covert operations and use of camera vans, as well as prosecutions based on dashcam footage submitted by the public.
---