A campaign group is encouraging local authorities to collaborate with police forces in order to enforce 20mph limits.
In a new briefing sheet, 20's Plenty for Us sets out to debunk the 'generally held view' that it is only the police that can enforce speed limits, including 20mph limits.
20's Plenty points to legislation which provides 'appropriate scope for local authorities to institute criminal proceedings for speed limit violation' – as long as it is authorised by a police force.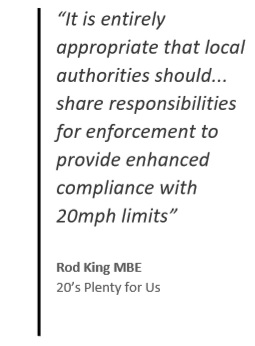 The campaign group adds that authorities can, by prior arrangement, use their powers – in collaboration with the police – to 'initiate public prosecutions against speeding drivers' and 'identify registered keepers of vehicles'.
20's Plenty says 'sharing the burden' for enforcing 20mph limits could free up police resources for other work – and could lead to a 'transformational reduction in vehicle speed from increased compliance'.
Rod King MBE, founder and campaign director of 20's Plenty for Us, said: "Speeding blights our communities, causing fear and violation of our right to walk and cycle safely through our streets where we live, work, shop, play and learn.  
"With communities reaping the benefits of lower vehicle speeds with safer active travel, better public health, lower casualties and lower pollution then it is entirely appropriate that local authorities should work with police to share responsibilities for enforcement to provide enhanced compliance with 20mph limits.
"Such a move takes no power away from the police yet simply enables our places to be better places by providing a robust deterrent to drivers who fail to comply with speed limits set by democratically elected councillors.
"We believe that this is an area for constructive discussion between local authorities and police forces."
---