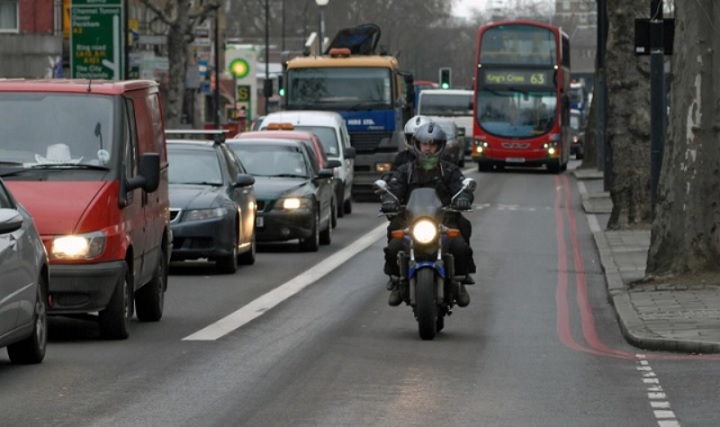 London is the most dangerous region for motorcyclists in the UK, analysis of Government data suggests.
Analysis of 2017 collision data, carried out by Swinton Insurance, found that nine of the UK's 10 most dangerous roads for motorcyclists are located in Capital – with the A23 in Lambeth topping the list for a second consecutive year.
The only road outside London in the top 10 is the A483 in Powys, Wales, which took seventh spot for motorbike collisions.
The top 10 most dangerous roads in the UK are:
Lambeth A23

Brent A404

Hackney A10

Islington A501

Hackney A107

Tower Hamlets A13

Powys A483

Islington A1

Wandsworth A3205

Wandsworth A3
The analysis also shows that despite a 5% decline in the number of collisions involving motorbikes nationally between 2016 and 2017, the figure in London rose by 8%.
The West Midlands was the most improved region, with 433 collisions in 2017 representing a 17% year-on-year fall. In comparison, there were 3,639 motorbike collisions in London that year.
Dan Agate, Swinton Insurance, said: "We feel that it's important to alert motorcyclists of the most dangerous roads in the UK and the places that they should approach with more caution."
Difficult to make 'meaningful comparison'
The London Road Safety Council (LRSC) says while the volume of traffic in the Capital makes it difficult to draw comparisons to other regions, it has identified motorcycling as a casualty reduction priority.
Mark Bunting, LRSC press officer, said: "Because of the sheer volume of traffic using London's roads it is often difficult to make a meaningful comparison of casualty rates on the Capital's roads to individual sites outside London.
"You would probably need to calculate a casualty rate per mile based on the number of miles travelled by each transport mode.
"That said, the LRSC has identified motorcycling as a priority, and we have taken over the running of the 2Wheels London campaign to raise awareness and provide safety advice to riders.
"We recently ran a training course for London's road safety officers on how to engage with riders and will be launching a new social media based campaign at our AGM in July."
The 2Wheels London project works in close partnership with London boroughs and businesses across the Capital to provide PTW riders with useful safety information and advice.
---