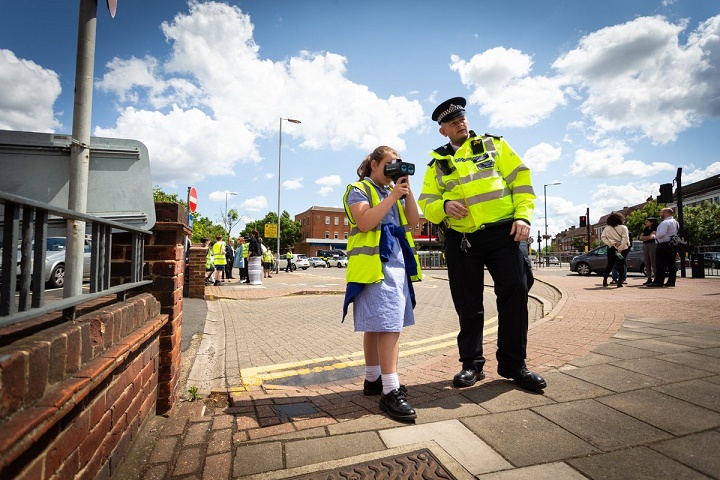 A new scheme has been launched giving primary school children across London the opportunity to 'educate' drivers caught speeding outside their schools.
Junior Roadwatch, coordinated by Transport for London, allows schools to carry out speed awareness sessions in partnership with the Metropolitan Police.
Drivers caught speeding are given the option, if deemed suitable, to speak to the children and receive an educational message as an alternative to the traditional penalties for the offence.
The pupils ask questions such as 'why do you think the speed limit is 20mph on this road?' and 'are you aware of the consequences of speeding?' – encouraging the driver to reconsider the speed they were driving at.
Heidi Alexander, deputy mayor for transport, said: "It is essential that our busy local neighbourhoods are safe places to get around.
"Over 1,000* children in London have been injured in collisions travelling to school over the last three years, and reducing excessive speeding is vital to keeping young people safe.
"We want Londoners all across our city to feel safe walking and cycling as part of their everyday routine, and Junior Roadwatch helps raise awareness of the dangers of speeding, making our streets more welcoming places to spend time."
Addressing 'community concern'
London boroughs play an 'important and central role' in the delivery of Junior Roadwatch, working with the Met Police to identify and engage with local schools where speeding is a concern.
The first session recently took place in Kingston, with pupils from Our Lady Immaculate Primary School joining officers from the Met's Roads and Transport Policing Command.
Liz Green, leader of Kingston Council, said: "We know that residents are concerned about speeding, especially around schools.
"This initiative is a great example of our commitment to improving road safety and raising awareness of the dangers of speeding."
*Between 2015 and 2017, 1,381 children were injured in collisions while travelling to school in London.
---