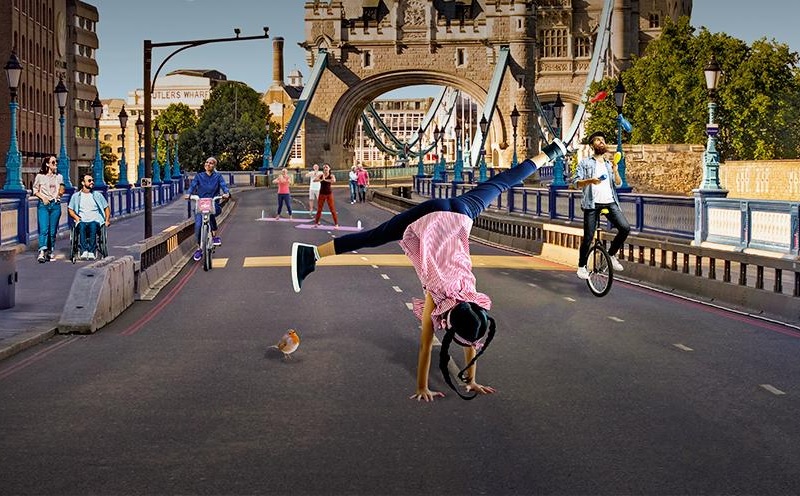 More than 25km of central London roads will be closed to traffic on Sunday, in an effort to inspire more people to walk and cycle as part of their daily routine.
The road closures have been organised in celebration of Car Free Day (22 Sept) – with hundreds of free events taking place across the Capital.
In central London, more than 150,000 people are expected to attend 'Reimagine' – the highlight of which is the opportunity to cycle across Tower Bridge, free from traffic.
Meanwhile, Bank Junction will be transformed into a 'car-free festival space' – with performances from Grand Union Orchestra and the London International Gospel Choir.
Across the Capital, 24 boroughs are supporting more than 340 Play Streets – giving children a chance to reclaim some of their local streets from traffic and take part in fun and games.
A number of boroughs – including Ealing, Hackney, Hammersmith & Fulham, Haringey, Islington, Newham, Tower Hamlets and Waltham Forest – are also running their own Car Free Day celebrations.
Free Santander Cycle hire is available all day using the code 'CarFreeDay2019' – with extra cycles being made available to cater for the anticipated increase in demand.
Sadiq Khan, mayor of London, says he wants to encourage Londoners to walk, cycle, and use public transport to help reduce harmful emissions.
Sadiq Khan said: "I'm really proud that London will be holding its biggest Car Free Day celebrations on Sunday, and I encourage everyone to join in the fun.
"By enabling Londoners to explore our city without cars and traffic, we will inspire them to walk and cycle as part of their daily routine – something which is crucial to clean up our toxic air.
"I'm delighted that 15 boroughs are hosting their own local Car Free Day events and 24 boroughs are supporting Play Streets, enabling people across the capital to experience what their streets."
---