TfL is to launch a 'unified, London-wide cycle network' in 2019, merging the two existing Cycle Superhighway and Quietway brands.
Announced yesterday (17 December), the network forms part of the mayor of London's new Cycling Action Plan, which sets out how authorities will use cycling to help address poor air quality and congestion – by improving infrastructure in order to make cycling easier, safer and more accessible.
It follows feedback from Londoners in which the current brands were labelled 'misleading' – especially for those new to cycling.
The mayor of London says the new Pan-London network, which will be revealed in early 2019, will be supported by simple, easy-to-use signs.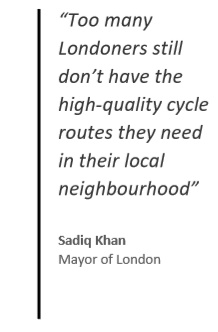 Sadiq Khan, mayor of London, said: "Getting more Londoners cycling is essential for our city's future health and prosperity, and our new Action Plan shows how we're going to go further than ever before to make this a reality.
"The evidence is clear – where we've built new high-quality cycling infrastructure, the routes have been hugely successful in getting more people on their bikes.
"Despite this, too many Londoners still don't have the high-quality cycle routes they need in their local neighbourhood."
The new 'quality criteria' in the Action Plan are designed to help boroughs understand what will be funded – and include volumes and speed of traffic, number of HGVs and collision risk at junctions.
The detailed criteria will be included as an update to the London Cycle Design Standards in 2019, and will be regularly reviewed as part of the continuing development of cycling infrastructure design.
Where traffic levels are high, cycle routes will be required to either reduce traffic below the new acceptable threshold, or provide segregation.
Lilli Matson, TfL's director of transport strategy, said: "Cycling will be fundamental to London's success over the coming years, as the capital deals with the challenges that a growing population presents.
"By building and upgrading infrastructure across London and tackling some of the biggest barriers to cycling, our aim is to double the number of cycle journeys over the next six years, reducing congestion, improving health and making a real difference to the capital's poor air quality."
---