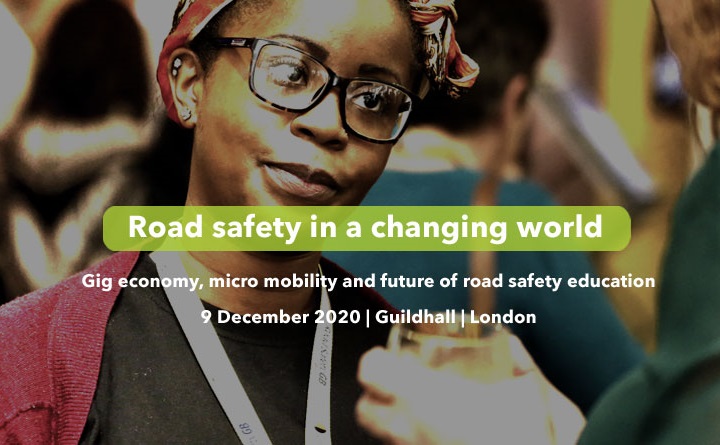 A one-day conference organised by the London Road Safety Council to examine road safety in a changing world will now take place on 9 December.
The conference, which takes place at Guildhall in the City of London, was due to be staged on 17 July – but has been pushed back due to the ongoing coronavirus pandemic.
The event will cover issues including the gig economy, micro mobility and the future of road safety education.
It is primarily intended for local authority road safety officers and elected members with an interest in road safety – as well as police and fire and rescue officers, highways engineers, academics and road safety practitioners from the private sector.
Delegate registration is now open – with complimentary places on offer for LRSC member organisations. For more information about the complimentary places please contact LRSC executive officer James Parker by email.
Additional places for LRSC members are available at £95, while the cost for local authority, third sector and academia is £150 and other attendees £220 (all plus VAT).
An exhibition will run alongside the conference, with places available from as little as £495.
The conference agenda is currently under development, but will include three sessions covering the following themes:
The gig economy and road safety
This session will look at the gig economy and the pressures that come with – for example – being a self-employed courier, delivery driver/rider or private hire driver, which may significantly increase the risk of being involved in a collision – and what can be done to improve the situation?
Micro mobility
This session will look at emerging forms of transport, including e-scooters and e-bikes, and consider the actions required to make urban traffic with micro mobility safe.
The future of road safety education
This session will look at how road danger reduction is being delivered in London and on a national basis across the UK.
The conference will close with a Question Time session with five distinguished panellists including: Liz Brooker MBE, chair of Road Safety GB; Nicola Christie, professor of transport safety at UCL and president of the LRSC; Johnathan Passmore, programme manager – violence and injury prevention, World Health Organization (WHO); and Jeremy Leach from Action Vision Zero.
More information/expression of interest from speakers
For more information about the agenda or to express interest in presenting a paper at the conference please contact Nick Rawlings by email or on 01379 650112.
---