The Mercedes-Benz A-Class has won the What Car? Safety Award 2019, recognising its crash avoidance technology and the crash protection it offers.

Presented annually in association with Thatcham Research, the award aims to increase awareness of the safest new cars.
The 2019 accolade was presented to the Mercedes-Benz A-Class, the only car to gain an overall score of 90% in Euro NCAP's 2018 tests for both the protection it offers in the event of a crash, and its crash avoidance technology.

Two other models – the Audi Q3 and Volvo XC40 – were highly commended by the judges.
Steve Huntingford, What Car? editor, said: "The annual What Car? Awards cover every type of car, but safety is the one category that's relevant to everyone.
"It's therefore particularly exciting to see this award won by a model that millions of British motorists can afford."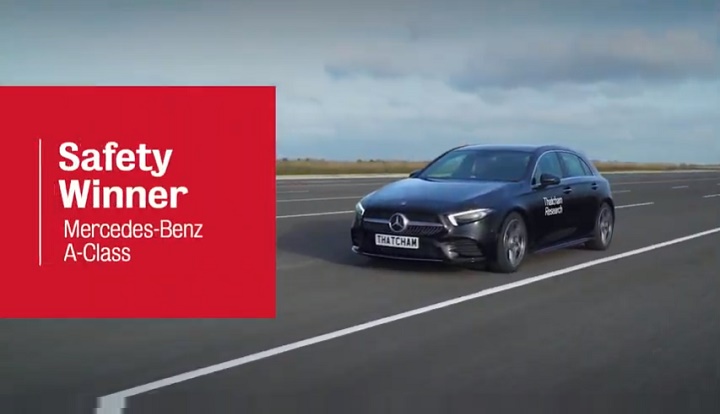 The judges heralded the A-Class as one of the 'safest and most technologically advanced' smaller cars ever to be produced.
Its 'Driving Assistant Plus' package – which combines adaptive cruise control, lane centring, speed limit recognition and guided lane change functions – was also highlighted as one of the best on the market.
Matthew Avery, one of the judges and director of research at Thatcham Research, said: "The Mercedes A-Class was the year's top performer in the world's most exacting safety tests.
"It's exciting to see one of 2018's best-selling cars meet that challenge, and it shows that car makers can deliver state-of-the-art safety for the mass market."
Of the other two highly commended cars, the Audi Q3 came out on top. It was praised for gaining the highest 'Safety Assist' score in Euro NCAP tests, which measures the car's ability to avoid the crash in the first place.
In third place was the Volvo XC40, which achieved the best 'Adult Occupant Protection' score (97%) of all cars tested in 2018. Its 'Pilot Assist' system was also described as 'very good at providing drivers with steering assistance and helping them to maintain a safe gap from the vehicle ahead'.
---