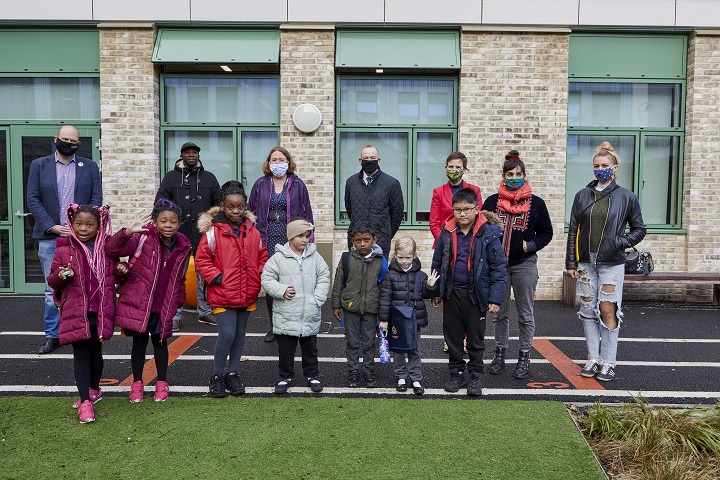 Cycling and walking minister, Chris Heaton-Harris, joined pupils in Hackney earlier this week to see a School Street in action and celebrate Walk to School Week.
Organised by Living Streets, Walk to School Week is a five-day walking challenge. Children are encouraged to walk, cycle or scoot every day of the week and share their experiences with classmates through interactive activity packs.
On 6 October, Mr Heaton-Harris visited Nightingale Primary School, one of the 38 schools in Hackney that has implemented School Streets – which see cars prevented from driving up to the school gates at drop off and pick up times.
He said: "Being active is not only good for health and happiness but also helps children to be more alert and ready to take on the school day – so it's essential everyone can safely walk to school.
"We know well designed walking schemes are hugely important for improving safety, cutting rat-running traffic, and boosting air quality, which is why we're supporting councils that put in place good quality walking infrastructure that meets the needs of their communities."
Living Streets says choosing healthier and more sustainable ways to travel has been made easier for pupils in Hackney since the introduction of School Streets.
A survey it carried out ahead of Walk to School Week shows 50% of parents – with children aged 4-18 years – support the introduction of car-free zones, with 53% backing the implementation of 20mph speed limits.
Mary Creagh, chief executive of Living Streets, said: "Every child should be able to walk to school safely, and enjoy the fresh air, freedom, friendship and fun that it brings.  
"It's clear from our research that parents see the benefits, but concerns around rat runs and air pollution are putting them off."
---