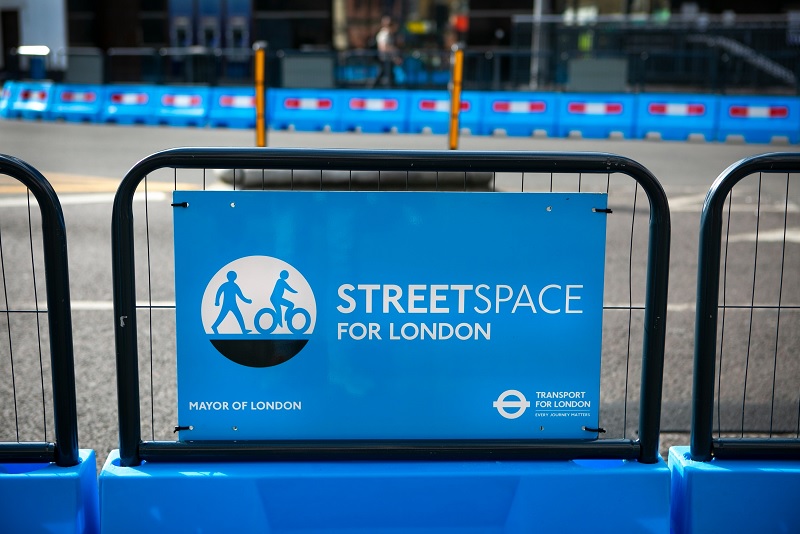 Work to create more space for walking and cycling across the Capital continues to gather pace, with the construction of a 'major' new protected temporary cycle lane along Euston Road.
As part of its Streetspace initiative, TfL has now pledged more than £24m to help boroughs build a strategic network for cycling, transform town centres and reduce traffic on residential streets.
In total, funding has been provided for 47 strategic cycle routes, 124 low traffic neighbourhoods, 204 School Street schemes and 205 projects designed to create additional space in town centres.
Sadiq Khan, mayor of London, said: "My world-leading Streetspace for London plans will help sustain the record boost in cycling over the past few months. I'm delighted that more than £24m has already been awarded to local boroughs to rapidly transform streets across our city.
"With more than 500 Streetspace schemes already approved and hundreds more still to come, we will enable millions more journeys to be made by walking and cycling."
Among the latest projects to get underway is the construction of a new protected temporary cycle lane along Euston Road, designed to connect businesses and major rail terminals.
The project will also provide a link between TfL's new temporary cycle lane on Hampstead Road, and Cycleway 6 on Midland Road/Judd Street.
It has been welcomed by the London Cycling Campaign, who describes Euston Road as one of the 'most polluted and hostile' for people walking and cycling.
Simon Munk, infrastructure campaigner at the London Cycling Campaign, said: "It is positive to see the mayor and TfL repurposing road space to enable more people to cycle – it will be essential to keeping London moving during the crisis, and to help London's recovery towards a greener, climate safe, future.
"We look forward to further Streetspace schemes connecting to Euston Road to the west particularly, in TfL's ongoing rollout of Streetspace plans to build a safe cycling network, and ensure every Londoner who wants to can cycle to work, the shops, school and more, in safety."
---