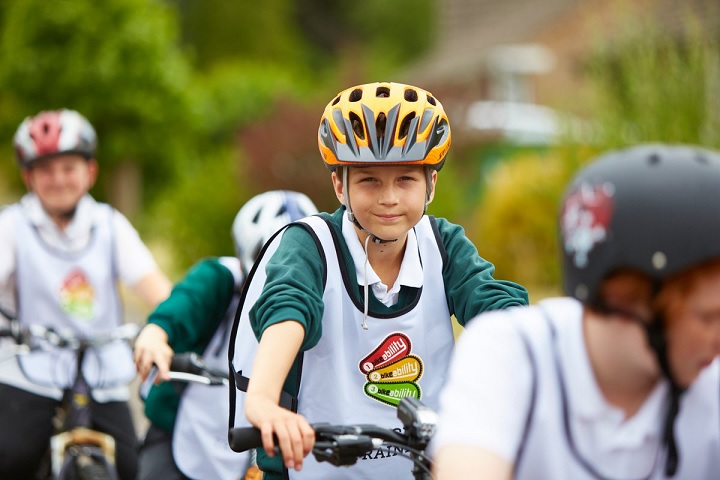 The Government has confirmed a further £13 million of funding for the Bikeability scheme to cover 2020 and 2021.
Bikeability training is offered at three levels based on a child's age and experience. Training starts with basic bike-handling skills in a traffic-free, controlled environment and builds to managing a variety of traffic conditions on different types of roads.
The latest investment follows a record year for the programme – during which around 400,000 children completed the scheme. Meanwhile, the total number trained since Bikeability was launched in 2006 has now reached three million.
The funding, announced by transport secretary Grant Shapps on 11 October, will ensure Bikeability is able to continue until at least 2021 – with approximately 50% of primary schools across England able to access the programme.
The DfT says children that cycle regularly are more likely to become active adults who are confident and safe cyclists.
Grant Shapps, transport secretary, said: "Cycling and walking are great forms of exercise, helping to reduce child obesity, and boosting people's physical and mental health.
"I am delighted to see Bikeability has now supported three million children to take to their bikes safely and confidently, kick-starting a lifetime of cycling for them.
"I hope that the £13 million investment announced today will help them continue to train millions more young cyclists over the coming years."
Gavin Williamson, education secretary, said: "The benefits of cycling to school go far beyond providing an active and fun way for children to get to school. Cycling cuts carbon emissions and traffic levels outside of schools by taking cars off the road.
"The Government's Bikeability scheme gives young people the knowledge and confidence they need to cycle safely, providing peace of mind to parents, pupils and schools and I'm so pleased that we're able to invest this new money in the programme – it's an investment in our future."
Paul Robison, chief executive officer of the Bikeability Trust, said: "We are delighted that funding for Bikeability in 2020 to 2021 has been confirmed. 
"High-quality cycle training enables confident and enjoyable cycling, raises awareness of skilful cycling among all road users and contributes to better transport, health and wellbeing.
"Children love Bikeability and parents value the training their children receive. Independent research confirms Bikeability helps children cycle more safely, more often."
---