Sustrans has launched the first review of the National Cycling Network, along with a long-term plan to tackle safety and improve accessibility.
The National Cycle Network was founded in 1995 by Sustrans with help from local communities, partners and a National Lottery grant.
Every year more than 780 million journeys are made on the network which at 16,575-miles  links towns, villages and cities across the country.
Published today (12 Nov), the 'Paths for Everyone' report shows that while more than half of UK population lives within a mile of the network, only 54% of its paths are safe for a 12-year-old to use unaccompanied by an adult.
The review outlines plans for the removal or redesign of 16,000 'barriers', to make the Network more accessible to everyone – especially those facing mobility challenges.
It states Sustrans' ambition to double the length of paths away from motorised traffic – from 5,000 to 10,000 miles – and to divert all routes away from 'busy and fast moving' roads onto new 'quiet-way' roads.

The report also covers improved safety at junctions, improved signage and adopting a new quality design standard for paths.
Sustrans warns that investment is needed now to prevent the UK's only network of walking and cycling paths from 'falling short of its potential'.
The walking and cycling charity says £7.6bn in economic and local benefits can be made every year as a result of reduced road congestion and the health benefits associated with increased walking and cycling.

Xavier Brice, CEO of Sustrans, said: "The National Cycle Network is a well-loved, well-used asset that's enjoyed by millions of people across the UK every day.

"We want to build on its success and make the network safer and more accessible for everyone, not just for people who currently use it.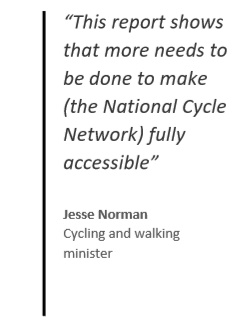 "Our 'Paths for Everyone' report lays out an ambitious vision to make the network traffic-free and safe for a 12-year-old to use on their own.

"However, historic problems such as poor surfaces, incomplete signage and barriers mean that for people with mobility issues or those of us who are less physically active, there may as well be a 'no entry' sign on their local path."
All four national governments have backed the review, with the Scottish Government having committed £7m in 2017 towards the development and maintenance of paths.
Jesse Norman, cycling and walking minister, said: "The National Cycle Network is a familiar sight for many, and a great asset for cyclists and walkers across the country.

"This report shows that more needs to be done to make it fully accessible, and that's why earlier this year the Government dedicated £1m to support initial work repairing and upgrading sections of this popular network.

"My department has worked closely with Sustrans throughout the review, and I look forward to seeing how the network is further improved to encourage generations to make cycling and walking the natural choice for shorter journeys."
---