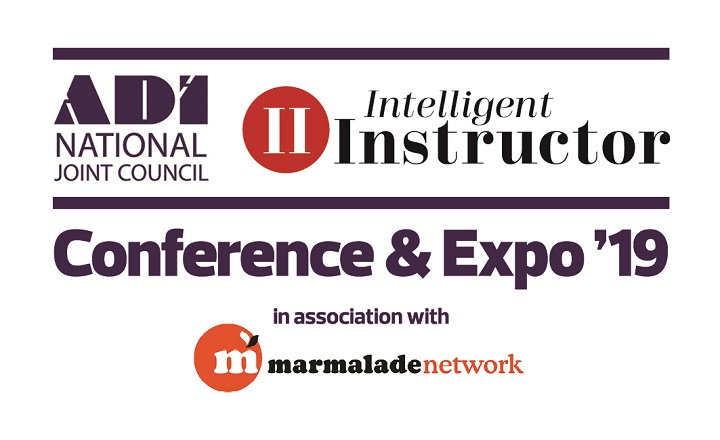 Two of the leading names within the driving instructor sector have teamed up to launch a new conference and expo.
Jointly organised by the ADINJC and Intelligent Instructor, the free-to-attend event will take place at the Heart of England Conference Centre, Coventry, on 6 October 2019.
Replacing the well-established ADINJC national conference, the new ADINJC & Intelligent Instructor Conference & Expo aims to become the UK's premier event for driving instructors.
The conference will feature a wide range of seminars and workshops, covering topics including business growth, coaching and teaching, lesson planning, marketing and standards checks.

The Expo will feature more than 40 industry trade suppliers demonstrating their latest products and services, and providing an opportunity for ADIs to see what's new on the market.
Richard Storrs, managing director of Intelligent Instructor, described the event as a "unique chance for instructors nationwide to learn from industry experts, whilst seeing trade suppliers showcase the latest products and services, to help instructors and their businesses".

Lynne Barrie, chairman of the ADINJC, says the event is a "fantastic… opportunity to work together and produce an inspiring new event for the industry".
Marmalade Network, which provides support and services for ADIs, has been announced as the headline sponsor of the inaugural edition of the conference and expo.
Suzy Walsh, Marmalade Network manager, said: "Marmalade Network is delighted to be headline sponsor of the ADINJC & Intelligent Instructor Conference and Expo 2019.

"We've worked closely with both highly respected organisations since the Network launched two years ago and are certain they will make this an outstanding event not to be missed."
Driving Instructors can register for the conference at: intelligentinstructor.co.uk/events
Alternatively, for more information contact Anna Lewis at Intelligent Instructor.
---