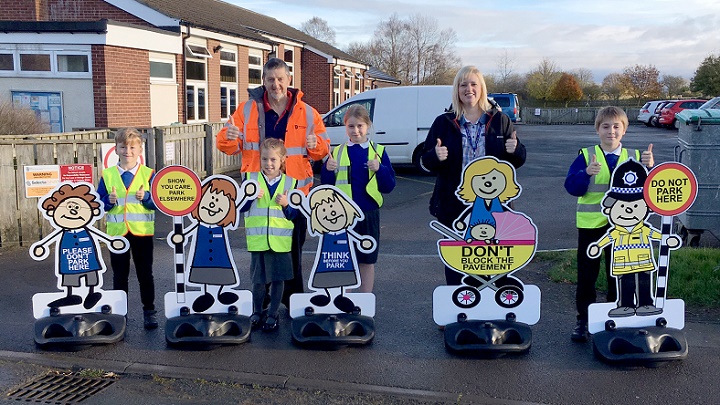 North Yorkshire County Council's road safety team is acting to ease concerns about irresponsible parking near school gates – with the help of a series of cut out road safety characters.
The council says that irresponsible parking by a minority of parents poses a safety risk to pupils and parents that walk and cycle to school, as well as other road users and local residents.
To combat this, the road safety team has bought a set of signs that can be borrowed by schools, to be positioned near the school gates. The signs feature school children, parents and a police officer and are designed encourage people to park away from the school entrance and not to block pavements or roads.
It is hoped the signs – which include messages such as 'show you care, park elsewhere' – will improve road safety, create a safer and cleaner environment and bring health benefits for parents and pupils by encouraging more children and parents to walk to school.
County councillor Don Mackenzie, executive member for highways, said: "We have had problems outside primary schools at morning drop-off and afternoon pick-up.
"The congestion can cause a nuisance for residents and other road users and potentially endanger lives as children cross between parked cars or people have to walk onto the road because a vehicle is obstructing the pavement.
"In addition, children are missing out on the opportunity to develop vital road safety skills with their parents on the way to school. They don't build confidence and learn to manage the risks in walking around their community.
"We hope these signs will help schools that experience a problem to get the message over in a friendly but clear way."
---