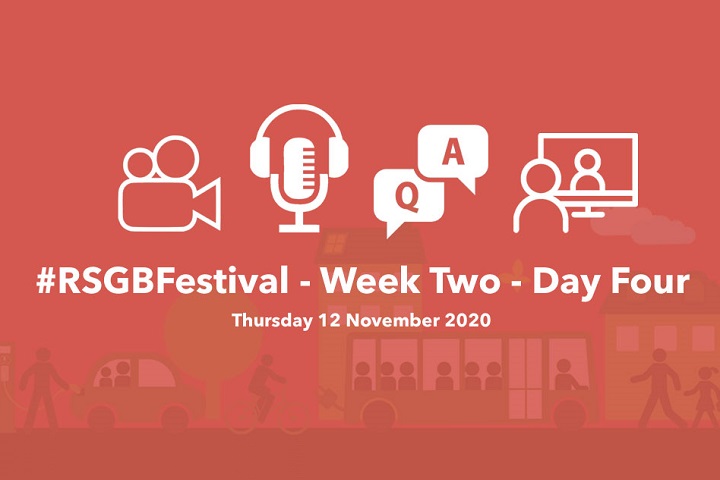 Day nine of the Festival of Road Safety includes a maiden speech from Philippa Young, the newly-elected chair of Road Safety GB.
Organised by Road Safety GB, the Festival of Road Safety will see more than 40 pre-recorded and live sessions broadcast throughout November (2-27 Nov).
On the agenda today
Today's content includes a keynote presentation from Philippa Young, the new chair of Road Safety GB – and group manager for traffic and road safety at Warwickshire County Council (10am).
Philippa was appointed vice chair of Road Safety GB in November 2018, and assumed the post of chair at the organisation's AGM on 10 November 2020. Her presentation at the Festival will be her first public engagement in her new role.
This will be followed at 2pm by a Fringe presentation by Becky Needham, road safety and evaluation officer at RoSPA.
RoSPA has recently conducted research to understand what impact joint strategic needs assessments (JSNAs) have had on the delivery of local road safety programmes.
The research involved a survey of local authority practitioners and a group interview with road safety officers.
During her presentation, Becky will explore whether road safety was integrated into local authority JSNAs and to what extent, how involved road safety practitioners feel in the development of their authority's JSNA – and what impact this has had on the delivery of local road safety programmes.
Finishing the week on a high
Tomorrow will see the second special edition of the RSGB Talk podcast published, featuring Josh Harris, director of campaigns at Brake.
Hosted by Nick Rawlings and Edward Seaman, the podcast looks at Road Safety Week 2020 – ahead of its launch on 16 November.
Among the topics featured include the origins of Road Safety Week, this year's theme (speed) and what's happening around the country?
Week two finishes at 2pm, with a fringe presentation from Annie Wallace-Stanley, driving advisor, Driving Mobility
Annie will look at the role of Driving Mobility within the National Road Safety Framework.
The full four-week programme is published on the Festival website. For more information contact either Edward Seaman or Nick Rawlings by email, or alternatively on 01379 650112.
---