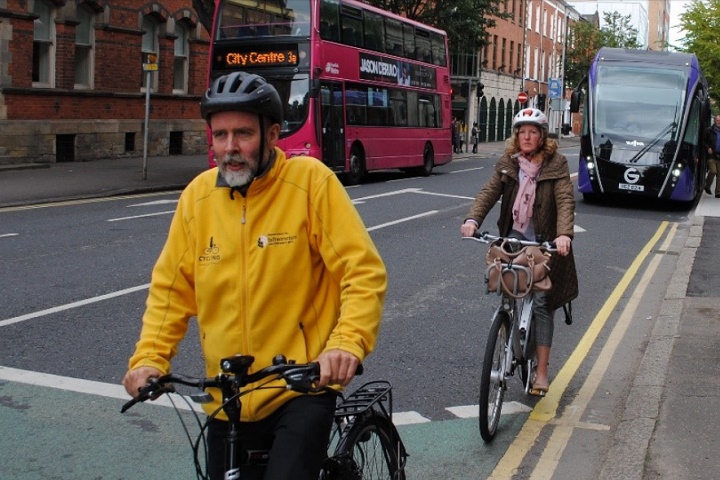 Sustrans is calling on the Government in Northern Ireland to focus on improving walking and cycling infrastructure in the country, following the results of a public satisfaction survey.
The Continuous Household Survey 2017/18 asked, for the first time, the public's views on satisfaction with public transport, walking and cycling in Northern Ireland.

72% of respondents were satisfied with public transport provision in their area, while 55% were satisfied with cycling conditions.
The main reasons why people weren't satisfied with cycling were the lack of cycle lanes (69%), 'too much traffic' (42%) and 'traffic goes too fast' (41%).
36% were not satisfied with provision for walking – with complaints including 'poor lighting at night' (51%), 'traffic goes too fast' (49%), 'poor footpath conditions' (43%) and 'not enough footpaths' (43%).
As a result of the findings, the walking and cycling charity Sustrans is calling on Northern Ireland's Department for Infrastructure (DfI) to allocate £20m to build the Belfast Bicycle Network within a five-year programme.
It is also asking for continued support for behavioural change programmes in schools, workplaces and communities – and for all Primary 5 pupils to receive on-road cycle training.

Gordon Clarke, director of Sustrans Northern Ireland, said: "The results of this survey send a clear message that people want to walk and cycle – but poor infrastructure and too much traffic, going too fast, is putting them off.
"We have been calling for the DfI to implement the Belfast Bicycle Network plan and provide similar protected cycle lanes for cities, towns and villages across Northern Ireland.
"We also need to ensure our footpaths are suitable and well-lit to encourage people to walk more.
"Increasing the number of active travel journeys is a Draft Programme for Government priority and doing so will improve the public's health, the environment and liveability of our towns and residential areas."
---