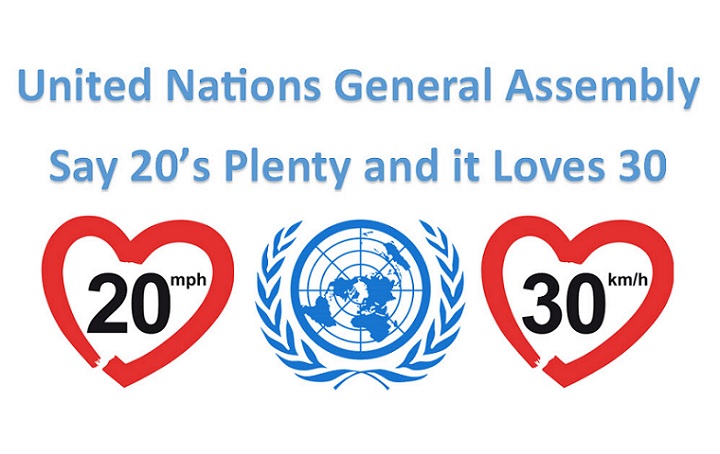 Campaign group 20's Plenty for Us has welcomed a move from the United Nations to back 20mph speed limits wherever pedestrians, cyclists or other vulnerable road users mix with motor vehicles.
In September, the General Assembly of the UN officially endorsed the Stockholm Declaration, described as an 'ambitious and forward-looking' road safety plan.
The plan sets out a vision to halve the number of road traffic deaths by 2030 – including mandating a maximum speed of 20mph in areas where "vulnerable road users and vehicles mix in a frequent and planned manner."
It also notes that "efforts to reduce speed in general will have a beneficial impact on air quality and climate change as well as being vital to reduce road traffic deaths and injuries."
Rod King MBE, founder and campaign director for 20's Plenty, said: "This announcement lays the responsibility for setting safe and equitable default urban and village speed limits at national governments. 
"It is no longer acceptable to have a national 30mph limit and expect local authorities to do all the work to change local limits to the accepted global standard that 20 is plenty where people walking and cycling mix with motor vehicles. 
"Just like air quality, smoking in public places, child protection and seatbelt wearing and so many other issues, where we have a national consensus and value on what is right and proper, then we should set that standard nationally."
---