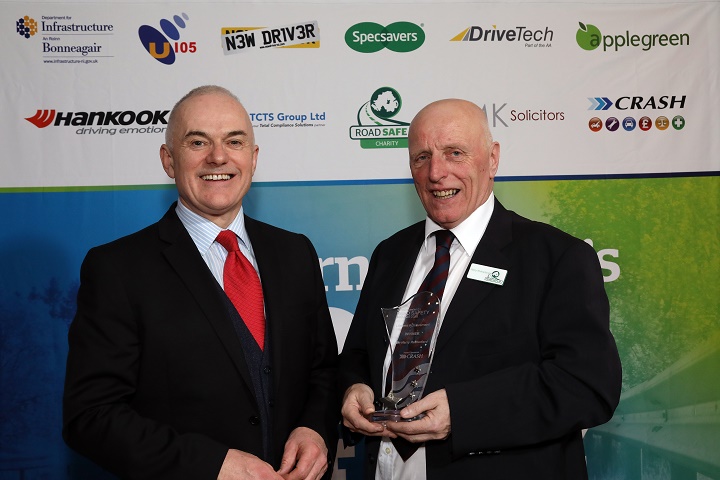 Northern Ireland's road safety champions have been officially recognised for their contribution to improving safety in their communities.
Now in their fifth year, Northern Ireland's Road Safety Awards are organised by Road Safe NI and accident management specialists, CRASH Services.
The 2019 awards ceremony took place on 22 November, with individuals, organisations and special projects from across the voluntary, education, emergency service and business sectors all recognised.
The highlight on the night was the presentation of the lifetime achievement award to Harry Rutherford, recognising his 50 years of voluntary road safety service.
The judges said: "[Harry] has been a driving force behind many campaigns. In particular, he has been passionate about cross border co-operation on road safety – as well as the safety of young drivers and primary school pupils.
"He has held various officer positions within the Foyle and District Road Safety Committee, as well as Road Safe NI.
"While his leadership has been invaluable to these organisations, what is so commendable about our winner is that he is willing to lend a hand and do any job required to deliver successful events. He has been described as Mr Reliable – you can always count on him to respond to any request, often travelling long distances at his own expense and giving up his time."
The 2019 winners in full:
Edwards Primary School, Castlederg and Autoline Insurance (Education)
Steve Carter and Isabella Collum (Lollipop Person)
Gavin Sinclair and Ann McKiver (Driving Instructor)
Constable Stephen Dickson (Emergency Services)
Patricia O'Neill (Voluntary Sector Individual)
A1 How many Must Die? (Voluntary Sector Group)
P Keenan Roads (HGV/ LGV)
Hughes Insurance (Business)
Your Choice programme from NI Fire & Rescue Service (Public Sector)
Harry Rutherford (Lifetime Achievement)
Pat Martin MBE, chairperson of Road Safe NI, said: "We had a fantastic response to the awards again. There is such a vibrant and committed road safety community working all over Northern Ireland.
"We are delighted to play our part in recognising those who go the extra mile. The winning entries really stood out for their efforts over a long period of time and for delivering innovative projects.
"There is so much good work going on across our schools, local communities, emergency services and businesses. The award winners are an inspiration to others and there is no question their efforts are saving lives on the road."
Jonathan McKeown, CEO of CRASH Services, said: "As a business with close connections to road users we are honoured to support the NI Road Safety Awards. We congratulate everyone for their extraordinary commitment to road safety."