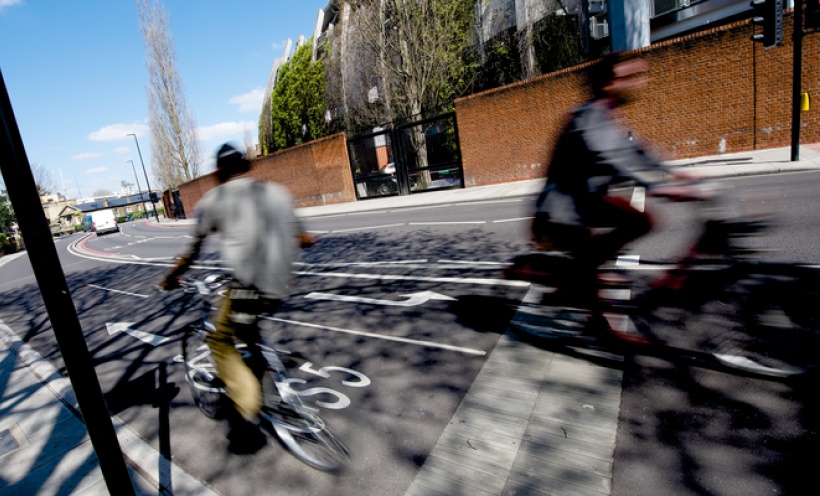 A new report has questioned the effectiveness of London's 'Quietway' network, while also raising concerns over the implications of the name 'Cycle Superhighways'.
The London Assembly Transport Committee report, published on 23 March, examines whether initiatives such as Cycle Superhighways (CS), Quietways (QW) and cycle hire schemes are working.
The report acknowledges that good quality infrastructure makes cycling safer and encourages more people to cycle. It also says getting more people cycling is good for public health and makes more efficient use of London's congested road network.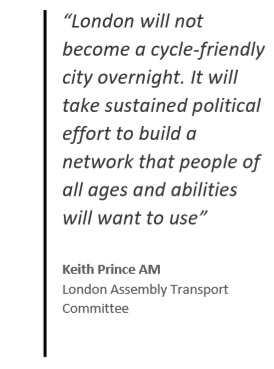 However, the report concludes that while journey volumes have increased on the QW1 route since it opened, at this stage there is insufficient data to judge the overall success of the Quietways programme.
The use of the name 'Cycle Superhighways' is also criticised, with the suggestion that it implies cycling long distances at high speed – which may not attract inexperienced cyclists.
Describing the delivery of cycling improvements across London's boroughs as 'patchy', the report says more cycling infrastructure needs to be built in outer London – where there is the greatest potential for cycling growth.
The report labels cycle parking as 'inadequate' and says this needs to be addressed alongside the installation of new routes. It cites cycle parking at railway stations as particularly important.
Keith Prince AM, chairman of the London Assembly Transport Committee said: "There are major and minor things that need to be considered urgently with regard to cycling infrastructure.  
"The term 'Superhighway' for example, creates the wrong impression for what this infrastructure is supposed to deliver. It appears to emphasise cycling long distances at high speed, which may not be the best way to attract a wider range of inexperienced people to cycle.
"We also are concerned that we will not see sufficient progress before the end of this mayor's term on the six new routes announced at the beginning of this year. We therefore ask TfL to publish a timeline for these new routes and to set a date by which plans for the 19 remaining routes will be published.
"London will not become a cycle-friendly city overnight. It will take sustained political effort over many years to build a network that people of all ages and abilities will want to use.
"Political leadership is needed to drive through improvements in cycling infrastructure and we would urge the mayor to provide this to ensure Londoners have access to higher quality cycling routes."
---