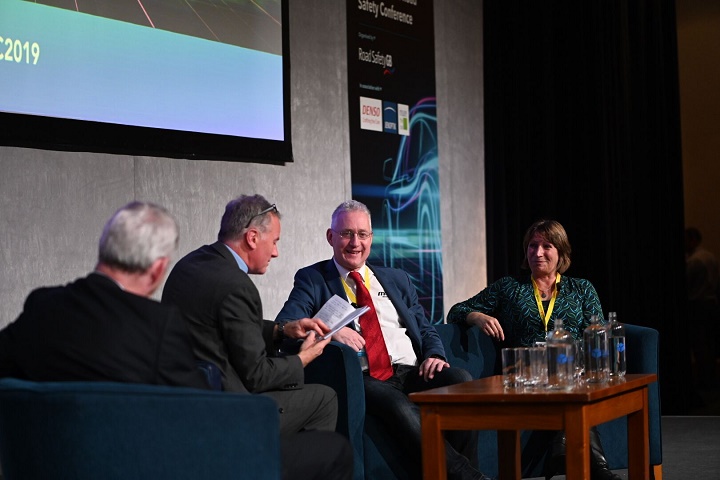 New for 2019, the closing session of the 2019 National Road Safety Conference comprises a 'chat show style session' with a number of guests from the world of road safety.
The session is hosted by James Luckhurst, an experienced presenter with an excellent understanding of road safety. James is also TISPOL's media relations' consultant, and the man behind Project EDWARD.
During the session, James is interviewing the following four guests.
---
Edmund King OBE, President, Automobile Association
Edmund King has been president of the Automobile Association since 2008 and is a visiting professor of transport at Newcastle University. 
He is also a trustee and director of the AA Charitable Trust for Road Safety and the Environment.
What was said:
Simple things can put road safety at the front of people's mind

Smart motorways an issue of common sense – it is not safe to breakdown on a 'live-lane'

Road condition – and potholes – are important for safety and economic reasons

A lot of people are scared of the media – it's about helping journalists and creating relationships

It's important to look at new technologies, and how we adapt to make them safer
---
Lembit Öpik, Director of Communications & Public Affairs, Motorcycle Action Group
Lembit Öpik is director of communications & public affairs for the Motorcycle Action Group (MAG), the UK's leading riders' rights organisation.
Born in Northern Ireland, Lembit has been riding motorbikes since 1980, and has campaigned on pro-biking matters since 1997. A dedicated libertarian, Lembit fiercely defends citizens' freedom, including the right to ride motorbikes and scooters.
What was said:
A great motorcyclist anticipates dangers, while a bad rider thinks they are indestructible

Technology could be used to improve motorcycle safety, including simulators to provide experience

Motorcycle access to roads is being squeezed (with cycle lanes)

Motorcycles are part of the solution to air pollution and congestion – Sadiq Khan is missing a trick

The media is a double edged sword

You can trade profile for influence

As long as you have momentum, you can do something with it.
---
Sally Lines OBE, Chief Executive, Road Safety Trust
Sally Lines took up the post of chief executive of the Road Safety Trust in June 2018. The Road Safety Trust is a registered charity which supports projects and research aimed at making the UK roads safer for all road users.
What was said:
The first four rounds of funding from the Road Safety Trust were a learning curve

Don't want to be seen as a research funder

We're looking to make a practical impact on road safety 

We'd love to hear from practitioners on their views

Next year's funding theme (opens in Feb) has a focus on technology

Tips for applying: showing how your initiative would/could make an impact; some form of evidence base
---
Bill Smith, Senior Engineer, Scotland TranServ
Bill Smith is a senior engineer at Scotland TranServ, and has nearly 40 years' experience in road safety to boot.
On 12 November, Bill was presented with the 2019 Lynda Chalker Award.
What was said:
Road safety targets are successful – gives people something to aim for

There's a lot of repetition in road safety – too much reinventing the wheel

A lot of local authorities have substantiate their own being

Money for road safety should be ring fenced – a role for Government?

Better sharing of data is important
---
The presentations and a film of each of the main conference presentations will be available to download from the conference website by close of business Monday 18 November.