The AA Charitable Trust and FIA Foundation have launched a new advert on the back of figures suggesting one in eight admit falling asleep while driving.
13% of respondents to an AA Charitable Trust survey  admitted to falling asleep at the wheel; while 37% said they have been scared of falling asleep.
In terms of gender, men (17%) are more than three times as likely as women (5%) to admit to falling asleep at the wheel.
The minute long advert shows a driver falling asleep and carries the strapline 'don't let tiredness creep up on you'.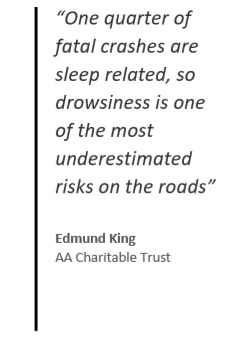 The AA survey also reveals that young drivers, aged 18-24 years, are the most likely to say tiredness does not affect their driving ability (13% compared to 2% of all drivers).
Young drivers are also most likely to carry on driving regardless of whether they feel tired (18% compared to 3% of all drivers).
Similarly, just 34% of 18-24 year-olds said they stopped for a break as soon as they realised they might be too tired to drive – compared to the average of 57%.
The top five reasons given for driving tired by respondents are: a long/hard day at work (39%); monotony of the journey (33%); late night driving (27%); trying to cover too much distance in one day (27%) and lack of sleep the night before (26%).
The latest road casualty statistics show drowsy drivers contributed to 53 fatal and 351 serious crashes in 2017.
However, the AA Charitable Trust says it is widely accepted the true figure for fatigue related crashes is much higher, due to under-reporting. It estimates that up to 25% of fatal accidents are caused by drivers who have fallen asleep at the wheel.
The trust is calling on drivers to be alert to fatigue, reminding them that winding down the window or turning up the radio are not effective remedies.
Edmund King, AA Charitable Trust director, said: "One quarter of fatal crashes are sleep related so drowsiness is one of the most underestimated risks on the roads. Tiredness is a fact of life at some point for most of us and it is crucial we know how to manage it in relation to driving.
"Winding down the window, singing and turning up the radio are not remedies to tiredness – rather a symptom in themselves.
"If you feel tiredness creeping up on you when driving then stop and take a break."
---