The country's leading roads policing officer has called for a crackdown on motorists who speed, suggesting they should be punished for breaking the limit by even 1mph.
Under current policing guidelines, typically motorists are not stopped if they are driving at up to 10% over the limit – and they are often given an extra 2mph allowance on top of that.
However, speaking yesterday (30 Jan) at the National Roads Policing Conference, chief constable Anthony Bangham, the National Police Chiefs' Council (NPCC) roads policing lead, called for the 10% buffer zone to be scrapped.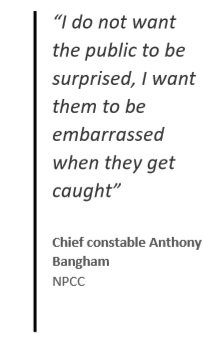 According to the Daily Mail, Mr Bangham declared 'enough is enough', as he argued that police had lost sight of their duty and that speeding drivers were no longer sufficiently afraid of being caught.
Mr Bangham also told delegates that speed awareness courses were being overused and that offenders should get fines and points on their licence instead.
Chief constable Bangham said: "Let's change the message – we are proud to be law enforcers.
"I do not want the public to be surprised, I want them to be embarrassed when they get caught.
"They need to understand the law is set at the limit for a reason. They should not come whinging to us about getting caught.
"If booked at 35 or 34 or 33 [in a 30mph zone] that cannot be unfair because they are breaking the law."
Edmund King, president of the AA, accused CC Bangham of 'wanting to go back to the days of Dixon of Dock Green'.
Talking to the Telegraph, Edmund King said: "Of course speeding is dangerous, and drivers should not speed. But surely it is better to educate motorists rather than just slap a fine on them.
"The last thing we want is drivers glued to speedometer 100% of time. We want drivers to concentrate on road ahead and not be worried about going one or two miles over the limit."
---
What's your view?
Do you agree or disagree with chief constable Bangham? Post a comment below, giving us your name, and we're publishing a selection of readers' views in a follow up piece here.
---
Stakeholder reaction
Brake
Joshua Harris, director of campaigns at road safety charity Brake, said: "Speed limits are exactly that, limits, set at the top speed that it is safe to drive on any particular road. Drivers who go beyond these limits are behaving recklessly and endangering the lives of themselves and others.
"Brake wholeheartedly supports Chief Constable Anthony Bangham's view that a zero-tolerance approach to speeding is required, sending a clear signal that breaking the law is not acceptable."
---
RAC
Pete Williams, RAC road safety spokesman, said: "While speed is clearly a contributory factor in many road accidents and there is no question that drivers should obey the speed limit, it doesn't seem sensible to make motorists constantly look at their speedometers for fear of drifting a few miles an hour above the limit.
"Originally, the leeway of 10% plus 2mph over the speed limit was given to take account of inaccuracies that may occur because of camera and speedometer calibration.
"Surely, the police's focus should be on tackling those who exceed the speed limit consistently, and, or excessively, as they present the greatest road safety risk. It seems very wrong to penalise law-abiding motorists who may occasionally go very slightly above the limit."
---