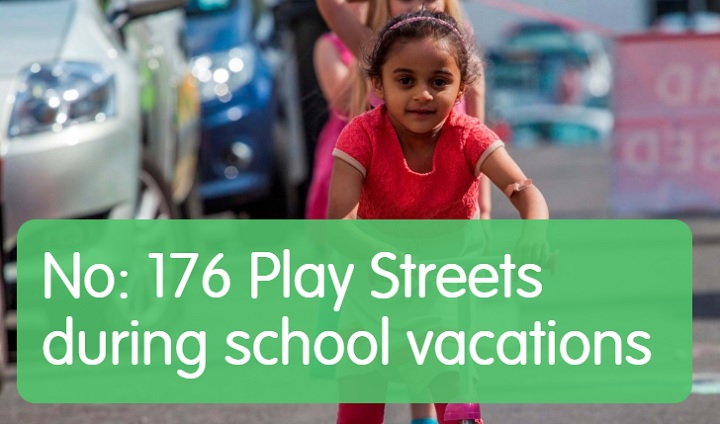 The introduction of a 'Play Street', which temporarily shuts roads to traffic, is an effective way of increasing physical activity among children living in an urban environment, according to a professor of transport.
This finding is outlined in the latest in a series of 'essential evidence' summaries prepared by professor Adrian Davis, professor of transport and health at Edinburgh Napier University, to help disseminate academic research to road safety practitioners.
In his latest summary, 'Play Streets during school vacations', Dr Davis describes play streets as 'an effective intervention at neighbourhood level to increase urban children's moderate-to vigorous-intensity physical activity (MVPA) and decrease sedentary time during summer vacations'.
A play street is reserved for 'safe play' for a specific period during school holidays. Residents can apply for play street status for a set number of hours on a day, subject to approval by the local authority.
Dr Davis points to a study in which the MVPA of children using play streets increased by eight minutes per day, to above the recommended 60 minutes.
The study, carried out in Belgium, compared two groups of children; 54 who used play streets and 72 from 'control' streets.
All 126 children wore an accelerometer for eight consecutive days and their parents filled out a questionnaire before and after the measurement period.
Between 2-7pm, MVPA among the play streets group increased from 27 minutes per day during normal conditions to 36 minutes per day during the play street intervention – whereas MVPA in the control children decreased from 27 to 24 minutes per day.
Across the entire day, MVPA in the play streets group increased from 55 to 67 minutes per day, whereas MVPA in the control children decreased from 57 to 53 minutes per day.
Dr Davis concludes by saying play streets 'offer children a safe play space to be active in their own neighbourhood'.
---