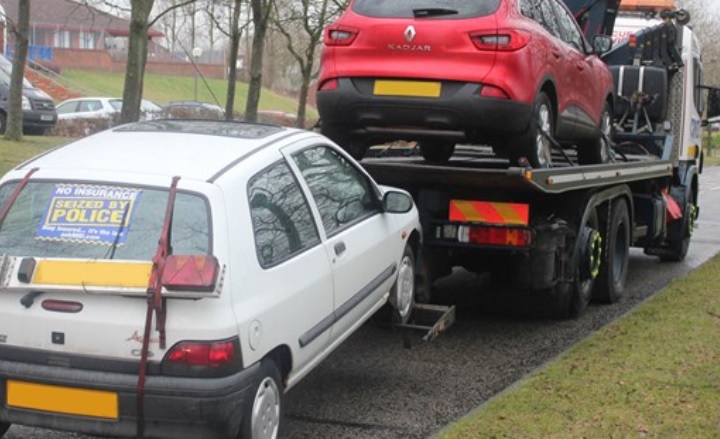 Uninsured drivers are being threatened with increased enforcement activity this month – as police forces look to crackdown on an offence which causes a 'disproportionately high level' of fatalities.
Figures published by the Motor Insurers' Bureau (MIB) show around 130 people are killed by an uninsured driver each year – with more than 26,000 personal injuries recorded in 2018.
The MIB says one contributing factor behind the 'concerning rate of collisions' is that uninsured drivers aren't motivated to drive legally and help keep policy costs down.
'Operation Drive Insured', organised by the MIB in partnership with the National Police Chiefs' Council (NPCC), will see officers in England, Wales and Northern Ireland step up efforts to seize uninsured vehicles.
The month-long operation is setting out to improve road safety and raise public awareness of the issue.
Chief constable Anthony Bangham, NPCC lead for roads policing, said: "Police forces take action every day against those who choose not to insure their vehicles. 
"This coordinated NPCC campaign highlights the issue of uninsured driving and anyone stopped by the police who is not insured can expect to have their vehicle seized and face a substantial fine as a consequence."
Police officers have access to MIB's Motor Insurance Database (MID) – a central record of all active UK motor insurance policies.
The MIB says that while uninsured driving is an issue across the UK, the worst affected areas include London, Birmingham, Manchester and West Yorkshire.
Anna Fleming, chief operating officer at MIB, said: "Having valid motor insurance is more than a legal requirement: it is designed to protect victims of road traffic collisions by providing them with financial compensation. 
"We will continue our long-standing partnership with UK police to ensure that everyone on the roads has insurance and to make uninsured driving socially unacceptable." 
The minimum legal consequence for uninsured motorists means that their vehicle can be seized and potentially crushed, along with a £300 fixed penalty notice and six licence points.
---