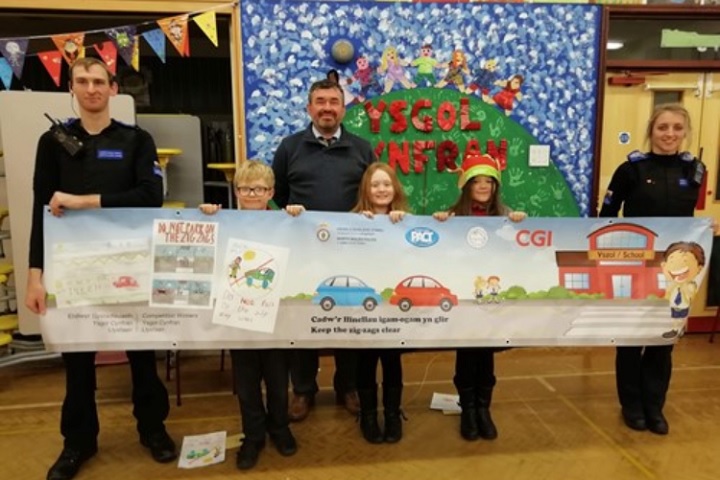 Pupils from a primary school in north Wales have got in touch with their creative side to highlight the problem of dangerous parking outside their school.

Working with North Wales Police, pupils at Ysgol Cynfran School in Llysfaen recently took part in a poster competition to educate drivers on the pitfalls of of parking on zig zags.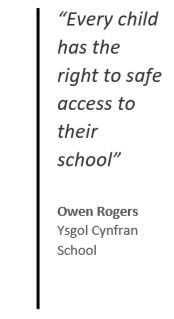 The winning posters have been printed on a specially designed banner, which is now on display outside on the school gates.
Owen Rogers, the school's head teacher, says he hopes the banner will remind parents to think twice about where they park.
Mr Rogers said: "Every child has the right to safe access to their school and they should not have to face dangers at the school gate caused by a minority of irresponsible drivers."
PCSO Matthew Preston, from the local Safer Neighbourhood Team, worked on the project and says pupils and staff wanted to take action following a near miss involving a child and a car outside the school.
PCSO Matthew Preston said: "The issue of vehicles being parked on the zig zag lines has been problematic. A minority park illegally and inconsiderately, so when the school highlighted the issue we decided to do something about it.
"We decided it would be a great idea to get the whole school involved so we came up with the idea of asking the pupils to design a poster. They were tasked with the job of asking parents to help them with their designs.
"We are simply asking drivers to think of children's safety when parking their vehicles outside schools. The zig zags are there for a reason – to keep vehicles away from school entrances so it's safe for children to file out of schools and make their way home safely."
---