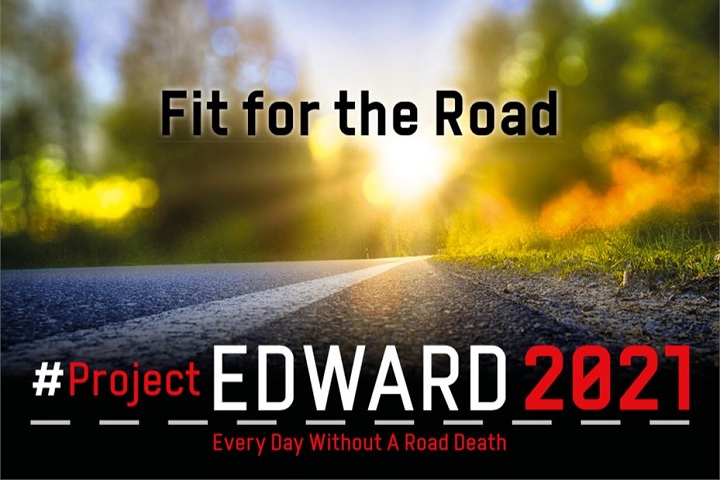 The 100 day countdown to Project EDWARD starts today (4 June), with the unveiling of September's week of action and the first episode of a new podcast series.
This year's Project EDWARD (13-17 Sept) is said to be fully aligned with the principles of the safe system approach to road safety.  
Organisers say the theme, 'Fit for the Road', offers numerous opportunities to highlight examples of good practice in implementing the five core pillars of the approach:
Safe vehicles

Safe road use

Safe speed

Safe roads and roadsides

Post crash care
At a webinar this morning (11am), members of the Project EDWARD team will switch on the 2021 website, with details of some events (both physical and virtual) confirmed for the week.
This includes the first-ever 24-hour 'National Safer Speeds Day'.
Meanwhile, the first episode of the new 'Fit for the Road' podcast series will be published – with fortnightly episodes to follow until December.
Simon Turner, project manager, said: "An average of five people lose their lives every day on the UK's roads, a figure that had remained largely unchanged for more than 10 years.
"As we move into the new decade, with its ambitious road casualty reduction targets, we are determined to shine the spotlight on the best examples of prevention and intervention strategies. 
"There can be only one target: zero road deaths. We all have a role to play if we are to achieve this."
This year's Project EDWARD is being administered by RoadSafe and Driving for Better Business, a Government-backed programme which raises awareness of the benefits of effectively managing work-related road risk.
The initiative is backed by most of the police forces in England and Wales as well as Police Scotland and the Police Service of Northern Ireland (PSNI).
It is also supported by Highways England, the National Police Chiefs Council (NPCC), the National Roads Policing Operations and Intelligence (NRPOI), the National Fire Chiefs Council and the Association for Road Risk Management.
---