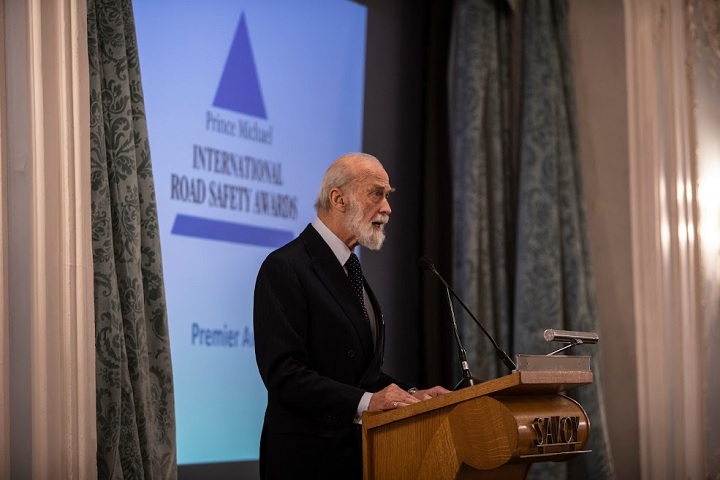 Road Safety Scotland and the Scottish Government have joined the road safety consultancy Agilysis in being recognised by the Prince Michael International Road Safety Awards' scheme in 2020.
Established by HRH Prince Michael of Kent in 1987, each year the 'most outstanding' international road safety initiatives receive public recognition through the scheme.
The awards are presented in five main categories based on the five pillars of the Global Plan for a Decade of Action: road safety management, safer roads, safer vehicles, safer road users and post-crash response.
Earlier this month, Agilysis announced it had received a PMIRSA for its "immediate and innovative" response to the Covid-19 pandemic – helping to provide "comprehensive and effective" support for the road safety community.
This included the Standing Together webinar series, which explored key and emerging themes in road safety, providing opportunity for both development and discussion.
Now the full list of recipients has been unveiled, which includes the Scottish Government and Road Safety Scotland, who are being recognised for two campaigns which used 'science-based behaviour change'.
The #DriveSmart campaign features a series of larger-than-life 'gran' characters, who unexpectedly appear whenever a young driver attempts to do something risky.
The cheeky, straight-talking Gran has been used to tackle a number of issues, most recently drink and drug driving in the run up to the festive period.
The second campaign, Breath-taking Roads, uses a number of 'engaging and educational' films to show bikers how to improve their riding skills in the KSI 'hot spots'.
Announcing the awards, Prince Michael said: "Many congratulations to all my winners. I am delighted that their outstanding work has been recognised. My only sadness is that with travel so restricted this year I am not able to meet them and present my award in person. 
"Their achievements are significant, not just because they are innovative, but because they've actually saved lives and will continue to do so in the future. 
"As we come to the end of the first decade of action for road safety, we'll shortly begin a second ten year programme which we hope will make a huge difference across the world. 
"The commitment of our winners will certainly help to achieve the ambitious targets being set for this and their programmes will provide encouragement for others."
Meanwhile, the top accolade for 2020 – the prestigious Premier Award – has been presented to the Towards Zero Foundation for the #50by30 campaign.
The campaign, one of the central advocacy collaborations in the lead up to the United Nations Resolution on Improving Global Road Safety, pushed for inclusion of a target to reduce road deaths and serious injuries by 50% by 2030 in the resolution.
---