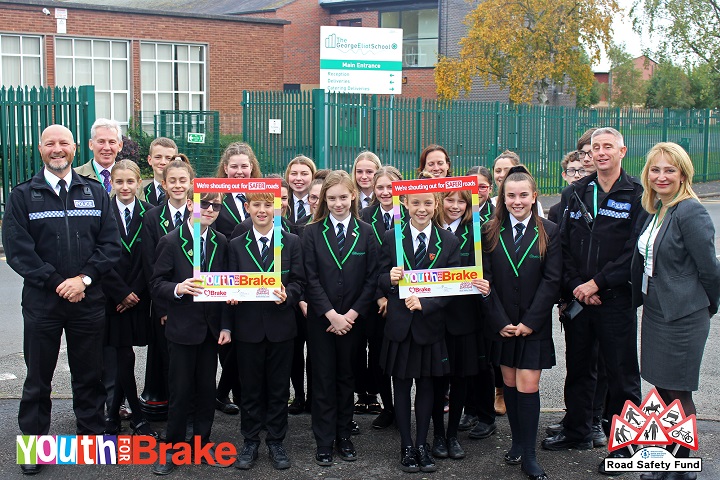 A group of pupils have helped launch a new road safety project in Warwickshire, which aims to make local streets safer for people who walk or cycle.
The children from The George Eliot School in Nuneaton are some of the first to take part in Youth for Brake – a new road safety and sustainable transport campaign organised by road safety charity Brake.
The project for 11-16 year-olds is being offered to secondary schools and youth groups in Warwickshire, thanks to Brake's partnership with Brightkidz and funding from Philip Seccombe, the county's police and crime commissioner.
Youth for Brake aims to give young people the knowledge, skills and confidence to lead a campaign and engage with their peers about road safety and the dangers posed by transport. 
With support from Brake, the youngsters set up a committee, choose a road safety or sustainable travel topic, run their own campaign and then evaluate their successes.
Brake says the project is a chance for young people to work with their friends to 'shout out' about the need for changes that can make Warwickshire safer for people who walk or cycle, and spread important messages about the dangers of speeding, traffic and pollution.
Dave Nichols, community engagement manager at Brake, said: "Children and young people face some of the toughest journeys when travelling in their communities – from a lack of safe places to walk, cycle or cross the road, to increased pollution levels and unsuitable public transport. 
"The good news is young people are also passionate and creative, and we look forward to seeing what ideas school pupils in Warwickshire come up with."
---