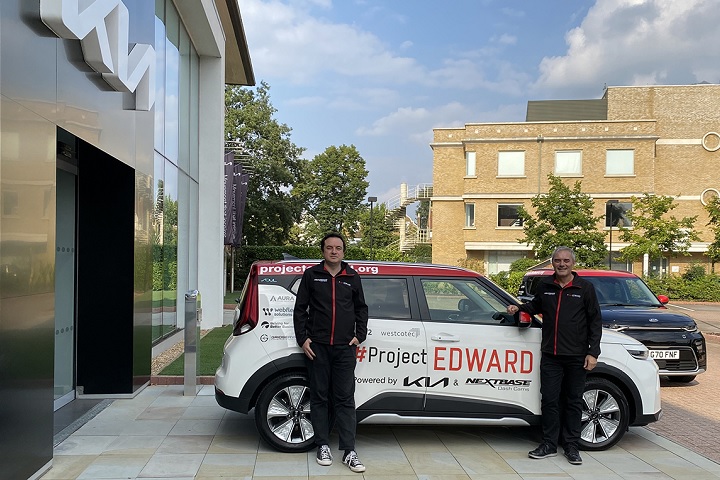 Project EDWARD 2021 is underway, with three national road trips, an ambitious schedule of live broadcasts and a new 'National Safe Speeds Day' among the highlights of the week of action.
Project EDWARD (Every Day Without A Road Death) is an annual road safety campaign, which aims to provide a platform to showcase some of the best work being done around the UK to promote the five pillars of the 'Safe System' approach:
Safe vehicles

Safe road use

Safe speed

Safe roads and roadsides

Post crash care
Since its inception in 2016, the initiative has established itself as one of the major events on the road safety calendar – with support from the Government, emergency services, highways agencies, road safety organisations and businesses.
The theme for Project EDWARD 2021 (13-17 September) is 'Fit for the Road'.
The week will comprise the three road trips, which started in Ely, Dundee and Plymouth this morning. Each will be driven in an electric car and will set out to highlight examples of good practice in techniques, policies and strategies that reflect the principles of the Safe System.
The full itinerary for each of the road trips can be found on the Project EDWARD website.
Meanwhile, twice-daily live broadcasts are taking place throughout the week.
They will be streamed via Twitter, Facebook and YouTube simultaneously – and will also be accessible on the home page of the Project EDWARD website.
The first took place this morning from Plymouth, where Alison Hernandez, police and crime commissioner for Devon and Cornwall, formally launched the three road trips (watch below).
Today's second broadcast (3pm) comes from Scotland's National Traffic Control Centre – and includes (weather permitting) spectacular aerial shots of an emergency services vehicle convoy arriving at Exeter Airport.
Click here to see the full broadcast schedule.
On Wednesday (15 Sept), all the UK's police forces will be participating in National Safe Speeds Day. Starting at 7am, the 24-hour operation aims to encourage compliance with speed limits.
Forces and road safety partnerships also have a host of other educational and enforcement activities planned throughout the week.
As part of the South Yorkshire Safer Roads Partnership (SYSRP), South Yorkshire Police has a week full of events to promote safety messaging around the Fit for the Road theme.
Officers will be taking to the roads in a special unmarked HGV to ensure people are driving safely and not using mobile phones while at the wheel, while also engaging with parents outside schools about driving behaviours and holding safe passing events aimed at protecting cyclists.
Jason Booth, South Yorkshire Police's roads policing inspector, said: "We all have a part to play in making the roads safer for everyone, and in particular during this action week we will be focussing on those classed as vulnerable road users. This can be pedestrians, cyclists, horse riders, anyone using the roads alongside motor vehicles.
"Every day we have a dedicated traffic car that patrols our roads looking for those who are driving irresponsibly or dangerously – part of our force's Operation Illuminate. We only have a finite amount of resources and we have to respond to incoming emergencies and incidents, but this car enables us to have a continuous proactive presence on our roads.
"As part of the week, please think about the small changes you could put in place to make your driving safer and listen to the messaging ourselves and our friends at the SYSRP will be delivering."
---