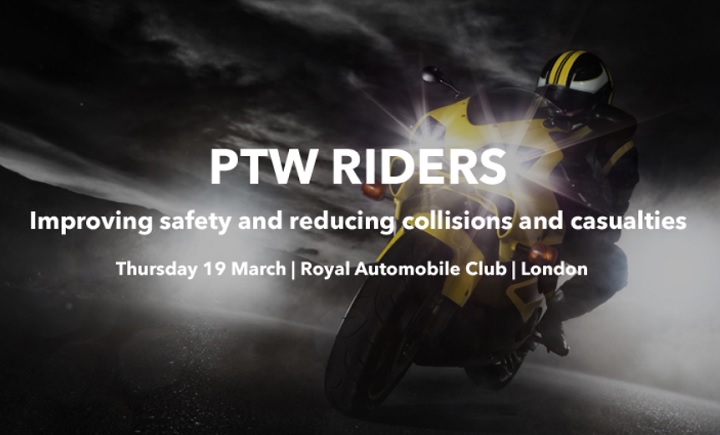 Delegate registration is now open for a one-day conference – taking place in spring 2020 – which will focus on reducing casualties among powered two wheeler riders.
The conference, titled 'PTW riders: improving safety and reducing collisions and casualties', is being organised by Road Safety GB in partnership with the DfT. It will be held at the RAC Clubhouse in Pall Mall, London on Thursday 19 March.
The early bird rate for the first 25 Road Safety GB and Academy members is just £130 plus VAT.
Planning is still in its infancy, but the conference content will be geared towards road safety practitioners – principally local authority road safety officers, fire & rescue and police officers and motorcycle instructors.
Key stakeholder organisations in the PTW sector have been invited to present at the conference and outline what they are doing to help reduce collisions and casualties among riders – and what they think road safety practitioners should be doing to achieve the same aim.
To date, the following organisations have accepted the invitation to present:
RoSPA

DVSA

Road Safety Scotland

National Young Riders' Forum

Motorcycle Industry Association (MCIA)

2Wheels London

IAM RoadSmart
Details of speakers and presentations will be added to the conference website as they are confirmed.
The PTW challenge
As all road safety professionals know, PTW riders are at a significantly higher risk of being involved in fatal or serious road injury collision than other road users.
DfT figures show while PTWs comprise less than 1% of all motor vehicle traffic, riders account for 20% of all road deaths.
In 2018, 354 PTW riders were killed on roads across Great Britain – with more than 16,700 casualties in total.
This equates to a casualty rate of 5,674 per billion miles – compared to 223 among car occupants.
Delegate registration now open
Delegate registration for the conference is now open, with 25 early bird places available at £130 plus VAT for Road Safety GB & Academy members.
The cost for attendees from the public sector, third sector and academia is £185 plus VAT and for other attendees is £235 plus VAT. The delegate fee covers all refreshments, including lunch.
Click here to book a place to attend, or for more information contact Nick Rawlings (agenda and speakers) and Sally Bartrum (delegate registration) on 01379 650112.
Footnote:
There is also an opportunity for an organisation(s) from the private sector to become involved as a sponsor or exhibitor – click here for more details.
---