City-based drivers are being issued with more than one million penalty notices each year for driving in bus lanes – equating to approximately £68m – according to the RAC.
FOI requests to authorities in the UK's 20 largest cities show that 3,437,348 penalty charge notices (PCNs) for the offence were issued between 2015 and 2017.
The RAC data also highlights a rise in the number of PCNs issued annually from 2015 to 2017 – up 5% from 1,078,816 to 1,129,613.
Outside of London, there was a 9% increase over the three years (741,777 to 810,642) – while inside the Capital there was a 5% reduction (337,039 to 318,971).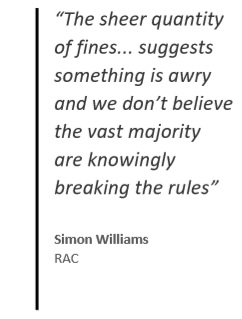 At 352,688, Manchester City Council issued the most notices between 2015 and 2017. 172,311 were issued in 2017 alone – a 175% increase on 2015 (62,580 notices).
Glasgow issued the second highest number of PCNs (339,402) between 2015 and 2017 – although the city recorded a fall in the number sent over the three year period.
The other cities in the top five were Cardiff (267,713), Bradford (208,790) and Nottingham (194,993).
The fine for driving in a bus lane varies across the UK, with London levying some of the steepest charges at £160 – or £80 if paid quickly. At around £60 other metropolitan and provincial areas charge much less.
The RAC is concerned that many drivers are being punished for accidentally committing the offence as a result of 'inadequate signage'. The motoring organisation is calling for a review of national signage guidelines and the introduction of 'smart bus lanes' to make things simpler and clearer for motorists.
Simon Williams, RAC spokesman, said: "Bus lanes have a vital role to play in ensuring the reliability of public transport as they help to keep our urban areas moving.
"But the sheer quantity of fines – more than a million every year – suggests something is awry and we don't believe the vast majority are knowingly breaking the rules.
"While there is clearly no defence for deliberately driving in a bus lane, we believe more can be done to make it obvious to drivers when they can and can't drive in one.
"A lot of this is down to improving signage. Every city driver will be familiar with the blue bus lane sign, but on city centre streets with a lot of signage 'clutter' it can be very easy to miss the specific times of operation."
---