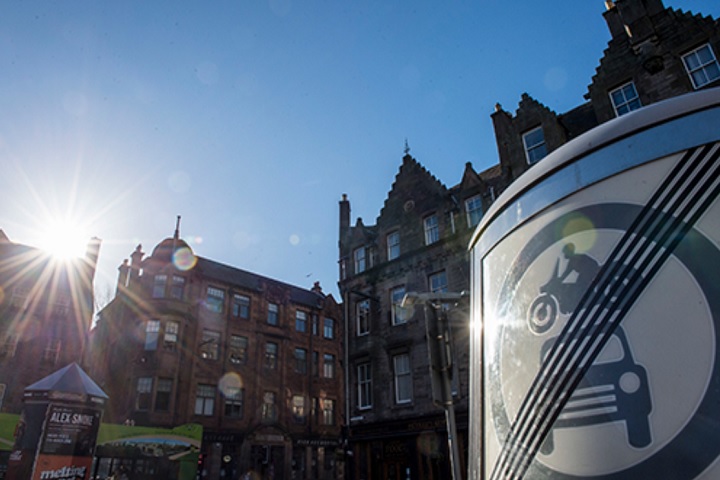 A new report has found that closing streets around schools can increase the number of children walking, cycling and wheeling without creating road safety problems.
The report, led by Dr Adrian Davis, professor of transport and health at Edinburgh Napier University, sets out the findings of a review of existing literature on the impact of school street closures.
Alongside increasing active travel, the findings suggest that in almost all cases, the total number of motor vehicles across school street closures and neighbouring streets reduced.
There is also consistent evidence that motor traffic displacement does not cause road safety issues of any significance in neighbouring streets – and that mitigating measures, where needed, have been applied successfully by local authorities.
It suggests that school street closures are supported by the majority of parents and residents living on the closed and neighbouring streets and that their support increases after any trial period.
A total of 16 studies – including three from Scottish authorities in Edinburgh, Perth and Kinross and East Lothian – were used to evidence the report.
The findings of these 16 studies were supplemented by semi-structured telephone interviews with relevant officers responsible for local authority school street closure schemes.
Dr Adrian Davis said: "It is noteworthy that such a simple intervention can have really positive impacts in terms of increasing children's physical activity levels and with this the associated improvements in wellbeing. 
"School street closures look to be a win-win for residents, schools and children and their families."
The report is part of an ongoing wider project to investigate the impact of School Streets – where access for motor vehicles is restricted at drop-off and pick-up times.
The project is being carried out by Sustrans, with funding from the Road Safety Trust.
John Lauder, deputy CEO Sustrans, said: "This research shows clearly how school street closures make the streets around schools safer, cleaner and healthier. 
"It also shows that school streets help increase active travel to school, making it easier for children to start the school day awake and alert. 
"We call on local authorities to give this consideration."
---