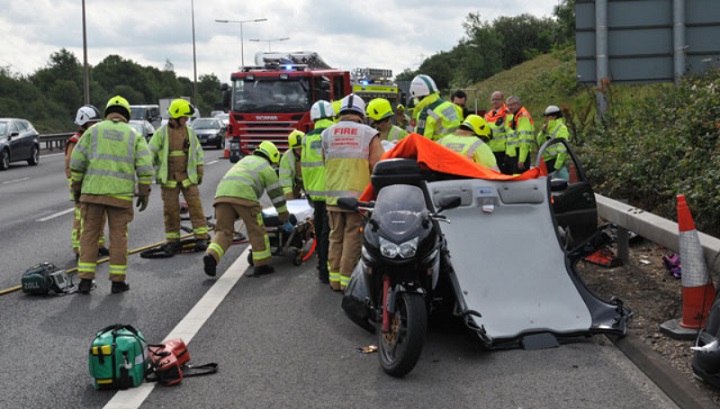 The national charity for road crash victims is calling for more rigorous evaluation of the effectiveness of road death investigation carried out by the UK's police forces.
In a report published in November 2017, titled 'Road death investigation: overlooked and underfunded', RoadPeace looks at how road death investigation is resourced, and how standards are maintained and evaluated by the police.
It also includes RoadPeace's assessment of how 'thorough, impartial, effective and consistent road death investigation is perceived to be'.
The report forms part of a wider campaign for quality assurance in collision investigation, launched by RoadPeace on the back of statistics which revealed that while the number of fatal road collisions fell by 5% between 2010-2015, road death prosecutions dropped by a far greater margin of 23%. RoadPeace describes this as an 'alarming trend'.
In the report RoadPeace says the police are not evaluated on the effectiveness of their road death investigation, with the HM Inspectorate of Constabulary (HMIC) annual inspection programme not covering collision investigation.
The only inspection of road death investigation conducted by the HMIC, published in 2015, included just six police areas and focused on cases leading to prosecution – which RoadPeace describes as 'un-representative' and 'superficial'.
The report also found that national standards for road death investigation do not exist and guidance varies widely.
RoadPeace praises Police Scotland for updating the Road Death Investigation Manual, which was introduced by the Association of Chief Police Officers (now NPCC) in 2001.
However, the charity is more critical of the College of Policing's guidance – used in England and Wales – which it says is far less detailed than the Police Scotland manual. The College of Policing is also criticised for 'dropping reference to senior investigating officers leading road death investigations'.
The report concludes there is a lack of transparency with investigation procedures, resources and judicial outcomes – as these are not reported by police services.
RoadPeace says that while the Home Office monitors police numbers, including many specific functions, it does not record data regarding the number of collision investigators.
The charity says that responses to a FOI request showed a 'wide variation in capacity, with several large police services unable to report the number of non-fatal collisions investigated by their specialist collision investigators'.
In the report's conclusion, RoadPeace is calling for a national oversight group, similar to those already covering homicide and other key crimes.
It also calls for police guidance to be updated and to be made 'consistent across the country', with 'best practice standards defined'.
RoadPeace is also urging the DfT to invest in 'upskilling of police to ensure accurate reporting and investigation of collisions'.
In compiling the report, RoadPeace says it sought input from police and road safety professionals. A draft report was circulated to ensure its summary of the situation is 'accurate' and its recommendations are 'practical'.
---