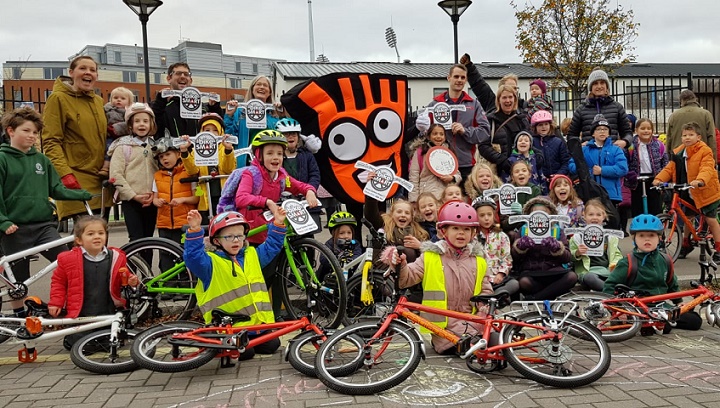 An 'at a glance' look back at Road Safety Week 2018 – featuring events and initiatives from across the country.
Using the theme 'Bike Smart', Road Safety Week 2018 (19-25 Nov) set out to raise awareness of the importance of protecting those on two wheels. Areas of focus included safe riding behaviours and the importance of appropriate training, clothing and equipment.
Here's a whistlestop tour of some of the highlights – with links if you want to know more about each initiative.
---
Bristol: Road Safety Week launches
The road outside a Brunel Fields Primary School in Bristol was closed to traffic on 19 November as young children took to their bikes to launch Road Safety Week 2018. Pupils and their families joined local residents for a street play session organised by Brake and the Bristol-based national street play organisation, Playing Out.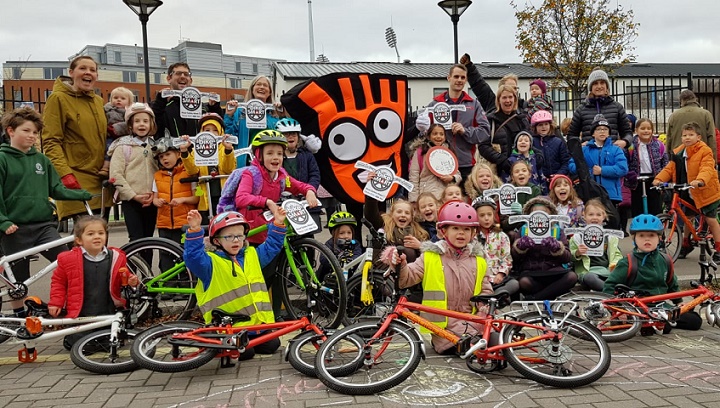 ---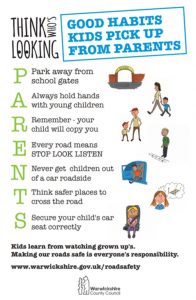 New campaign in Warwickshire
Warwickshire's road safety team used Road Safety Week to launch a new campaign, 'THINK who's looking'.
The campaign is based around a set of humorous postcards, depicting the good and bad habits that a child might pick up from a grown up.
---
Comprehensive programme in Essex
The Safer Essex Roads Partnership (SERP) delivered a comprehensive programme comprising more than 40 initiatives – including activities in infant and primary schools covering Bikeability training and pedestrian training in the form of a 'twilight trail'.
There were also sessions for year six primary pupils, focusing on how to stay safe near HGVs and other large vehicles.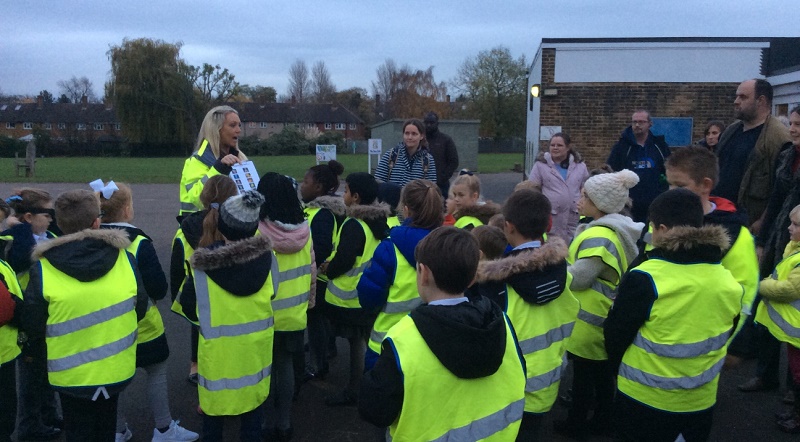 ---
Brighton: wrist mounted cyclist mirrors
As part of its Road Safety Week efforts, Brighton and Hove City Council gave away 10 wrist mounted cyclist mirrors – along with 100 blindspot mirrors for cars – courtesy of a local inventor.
---
Croydon: hi-vis competition for children
Croydon Council ran a 'Brighten Your Bag' competition in schools across the borough, to encourage pupils to make themselves more visible to other road users.
---
MPs participate in virtual reality ride
A number of MPs took part in a virtual reality cycle experience organised by Brake at the House of Commons. The technology was provided by Ford – one of the Road Safety Week sponsors.
Great turn out at our #RoadSafetyWeek event in @HouseofCommons yesterday. Lots of MPs came along to find out more about being #BikeSmart and try a VR cycling experience courtesy of @forduk. @Metcalfe_SBET @PM4EastRen @LizMcInnes_MP @PreetKGillMP pic.twitter.com/ke9B7JT4Tg

— Brake (@Brakecharity) November 21, 2018
---
First aid resources for motorcyclists
A toolkit of first aid resources, designed to deliver life-saving messages to motorcyclists, was launched as part of Road Safety Week. Rider First Aid – created by Brake, British Red Cross and Devitt Insurance Services – gives basic advice on what to do if first on the scene of a crash involving a motorcyclist.
---
'Safe on the Streets' resource revamped
BMW revamped its 'Safe on the Streets' resource – designed to help children become aware of the risks faced during their journey to and from school.The resource covers all aspects of road safety including in the car and active travel, and consists of a range of activity sheets and online modules, along with notes for teachers.
---
Virtual cycle tour in Glasgow
Brake's 'virtual cycle tour' arrived in Glasgow on 22 November as it closed in on its mission of achieving its target of almost 10,000km in the week.
Another great day on our Virtual Cycle tour in Glasgow! Special thanks to @DigbyBrownCSR for all your help today.

Join us tomorrow in Manchester Trafford Centre from 9am for our final event to help us reach our 9740km target https://t.co/wEQ0XVdrS3 pic.twitter.com/n35rTvdyrL

— Brake (@Brakecharity) November 22, 2018
---
What happened across the country?
Throughout Road Safety Week we published a daily news update covering events and initiatives taking place around the country. Click on the links below to read our daily updates.
Thanks to all the road safety teams who supplied information and photos to make this possible.
---