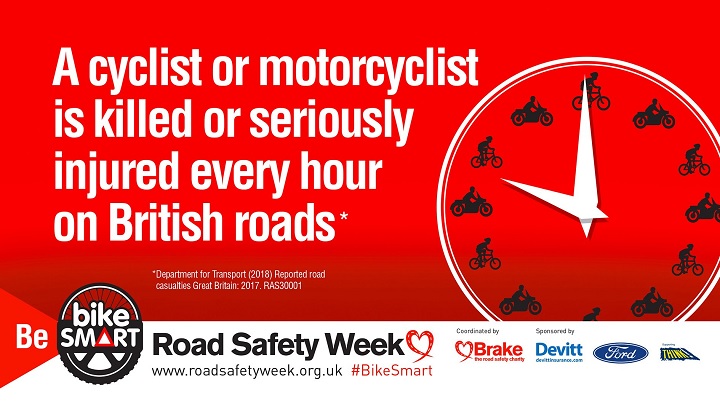 Road users on two wheels are 63 times more likely to be killed or seriously injured than car drivers, according to new analysis by Brake.
The data, published to mark the start of Road Safety Week 2018 (19-25 Nov), shows that on average, a cyclist or motorcyclist (referred to as 'bike deaths' by Brake) is killed or seriously injured every hour on British roads.
It also shows that two-thirds of bike deaths in 2017, an average of 25 a month, took place on rural roads – the highest number for more than five years.
Organised annually in November by Brake, Road Safety Week provides an opportunity for communities to take action on road safety – and a focal point for professionals to boost road safety awareness and engagement.
Using the theme 'Bike Smart', Road Safety Week 2018 is seeking to raise awareness about the importance of protecting those on two wheels.
To improve the safety of those on two wheels, Brake is calling on drivers to:
Slow down to give more time to spot danger and react

Look properly for bikes before pulling out at junctions

Leave at least a 150cm gap when overtaking a bike

Do the 'Dutch reach', using the opposite hand to open a car door to help avoid 'car dooring' incidents
Joshua Harris, director of campaigns for Brake, said: "Raising awareness about the safety of those on two wheels, who face much higher risk of death and serious injury than those in cars, is absolutely vital.
"We support the Government's announcement of a review of the Highway Code to help keep cyclists safe and its stated focus on motorcyclists in the forthcoming road safety action plan.
"Rural roads – with their high speeds, blind bends and few cycle routes – pose particular danger to those on two wheels.
"Road Safety Week is a vital loudspeaker for individuals, communities and organisations to shout about road safety and raise awareness of the risks on our roads."
Speaking in support of Road Safety Week, chief constable Anthony Bangham, NPCC lead for roads policing, said: "Road Safety Week is always an important event in the police calendar and Brake's timely 'Bike Smart' theme makes this year no exception.
"Raising awareness of the safety of those on two wheels is absolutely crucial and we will be ensuring that forces engage with partners throughout the week to both raise awareness of the dangers and enforce the law."
---
What's happening in your area?
Throughout Road Safety Week we are running a daily news update covering what's happening around the country. Simply send details of your activities by email to Edward Seaman at Road Safety News and we'll feature them in our roundup.
---