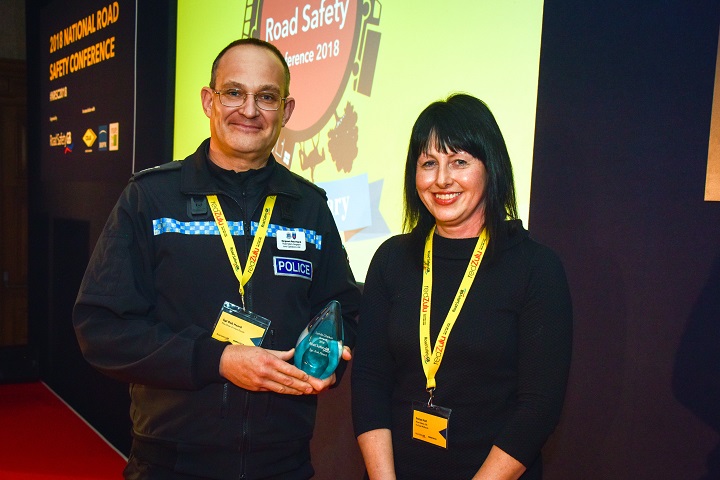 Sergeant Rob Heard, founder and chairperson of the Older Drivers Forum, has been presented with the 2018 Lynda Chalker Award.
The Lynda Chalker Award is presented annually by Road Safety GB to recognise an individual or organisation that has contributed significantly to road safety in the UK.
The 2018 accolade was presented to Rob Heard by Sonya Hurt, outgoing chair of Road Safety GB, on 27 November at the 2018 National Road Safety Conference in Brighton.
Rob Heard has been in the police force for 29 years and is currently the road safety sergeant for Hampshire and Thames Valley Police. He is an advanced police car driver and motorcyclist and leads the Hampshire and Thames Valley force's VIP escort team.
Rob instigated the Older Drivers Forum in 2013 following a number of serious incidents involving older drivers. After extensive research he saw a real need to help and support older drivers to drive safely for longer.
The Older Drivers Forum takes a partnership approach and since its creation in 2013 has enjoyed great success in reducing older driver incidents and increasing help and support to older drivers and other interested parties. Rob has assisted stakeholders in other parts of the country to set up their own schemes to help and support this vulnerable group.
Rob is a also member of the National Older Drivers Task Force and chairs the committee looking at self help and support. The task force presented a national strategy to the UK Government in July 2016, with some key recommendations to help and support to older drivers to carry on driving safely for longer.
Presenting the award, Sonya Hurt, outgoing chair of Road safety GB, said: "Rob's belief is that we need to embrace and celebrate the older generation and support those who wish to continue driving with practical, informative advice on how to drive safely for longer – but equally important give advice when it is time to retire from driving.
"Since the Forum's creation over five years ago it has assisted massively in raising public awareness not only locally but nationally as well."
Rob Heard said: "I feel very proud and honoured to receive this award.
"This could only have been possible by all the great support and help I have had from my road safety team, colleagues, partners and families of victims involved in collisions."
The two other nominees for the 2018 Lynda Chalker award were Cheryl Evans, who has been involved in road safety with West Berkshire Council since 2007, and Graham Feest whose lengthy road safety career began with Worthing Borough Council in 1974.
---