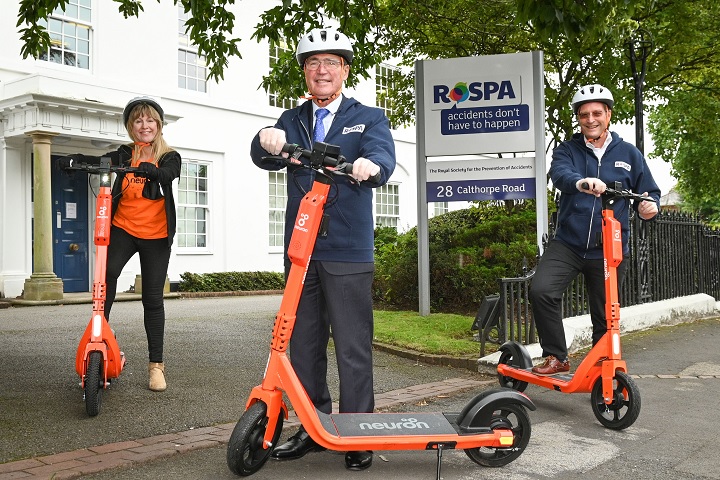 RoSPA has teamed up with electric scooter operator Neuron Mobility on a project which will 'lead the way' in best safety practice for the e-scooter market.
The collaboration will see the creation of a 'unique' rider course, designed with Neuron's e-scooters in mind, to provide theoretical and practical lessons on how to ride safely on Britain's roads. 
It will be delivered around the country at key e-scooter hubs in city centres, community parks and on university campuses.
Errol Taylor, RoSPA chief executive, said: "As the world adapts to life with Covid-19, it is more important than ever to encourage commuters to choose safe, socially-distant, travel options, such as e-scooters. 
"As e-scooter trials roll out in the UK, we are delighted to be partnering with Neuron to educate the public on the safest way to ride.
"Neuron's core focus on safety and their innovative, world-leading e-scooter makes them an ideal partner for RoSPA, and we look forward to working jointly with them to enable healthy, active lives through good education."
Regulations allowing trials of rental e-scooters on UK roads came into force on 4 July.
Since then, they have appeared across the country, most recently in Birmingham and Coventry.
Neuron is the largest e-scooter operator in Australia and New Zealand – where it has gained a reputation as a "safety-first" operator.
The announcement comes as Neuron prepares to launch in multiple cities across the UK.
Zachary Wang, CEO of Neuron Mobility, said: "Safety is at the heart of everything we do at Neuron so we are delighted to partner with RoSPA, the UK's experts in accident prevention.
"We have already won a number of contracts to operate our e-scooters in the UK and councils have been impressed with our safety credentials. 
"We look forward to rolling out a safety course with RoSPA that will have a real impact on the safety of our riders and also the general public in the cities where we operate.
"Neuron and RoSPA share a common goal which is to keep people safe and prevent accidents on the road. We are excited to do our bit in educating a wave of new riders on how to enjoy rental e-scooters in a safe way." 
---