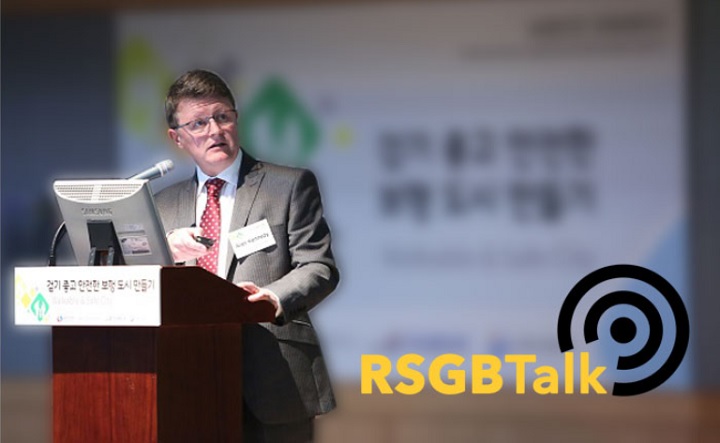 In the latest RSGB Talk podcast, Nick Rawlings is joined by Road Safety GB's executive director, Alan Kennedy, who outlines the future for the organisation – including a new  'world-first' augmented reality road safety app.
In the podcast, which is now available to listen to and download, Alan explains how his early career working in the oil industry led him into road safety, thanks to a part-time role delivering motorcycle training.
Alan outlines how he first became involved in Road Safety GB, and how, in various roles since – including four and a half years as chair – he has helped shape the organisation as it is today.
Looking forward, Alan explains how Road Safety GB, the Academy and Road Safety GB International operate – with a focus on Road Safety GB's growing influence across the globe.
He reflects on Road Safety GB International's first foreign commission in 2017 – which saw the organisation deliver behavioural change training to highways engineers in Jordan.
Alan reveals Road Safety GB International is also currently helping organise a summer school in Lebanon – and hoping to work in partnership going forward with authorities in Bangladesh.
Closer to home, Alan talks about a new 'world-first' augmented reality road safety app being made available in the UK through Road Safety GB.
The app, 'Arility', uses augmented reality – where virtual objects are layered over real world settings – to deliver engaging travel and road safety information to primary school aged children.
Arility will be made available to all Road Safety GB members free of charge, for them in turn to distribute to primary schools in their area after it is launched later this month.
---
RSGB Talk
Launched in December 2018, RSGB Talk is a monthly podcast published on the Road Safety GB website and hosted by Nick Rawlings, editor of Road Safety News.
The five  previous editions feature:

Jeremy Leach

, London campaign coordinator for 20's Plenty for Us, discussing 'all things 20mph' (December 2018)

Sam Merison

, director of the Road Safety GB Academy, talking about the future of the Academy (January 2019)

Sgt Road Heard

, founder of the Older Drivers' Forum, discussing how to keep older drivers safer for longer (February 2019)

Jonny Ewles

, strategy director at VMLY&R – the creative agency which works on the young driver element of the THINK! Campaign (March 2019)

Alan Hiscox, director of safety at the British Horse Society, discussing the challenges faced by horse riders on UK roads. (April 2019)
To express an interest in appearing on a future edition of RSGB Talk, please contact Nick Rawlings via email.
---