Approximately half of schoolchildren aged 6-11 years have not received any form of pedestrian safety training in the past 12 months, a new survey suggests.
Published on 20 March, 49% of parents who responded to the RoSPA-commissioned survey said their children have not had any road safety guidance.
The survey also highlights a 'strong desire' among parents for more road safety lessons, with 61% wanting to see more practical pedestrian training being given to their children.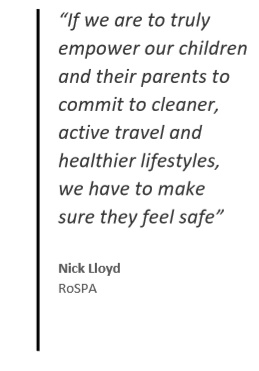 The latest DfT figures show that 1,269 children were killed or seriously injured as pedestrians on UK roads in 2017.
RoSPA says the figure 'demonstrates the need for further pedestrian safety training targeted at minors'.
Nick Lloyd, RoSPA's acting head of road safety, said: "Our survey has highlighted a clear need for more road safety training to be delivered to primary school-aged children, especially when considering the level of child road injury rates.
"If we are to truly empower our children and their parents to commit to cleaner, active travel and healthier lifestyles, we have to make sure they feel safe."
RoSPA has also unveiled a suite of free downloadable resources – designed to help schools in circumstances where there is no local road safety officer support available.
The resources, available to download from the RoSPA website, provide advice and information on how to organise pedestrian training for pupils in school years three and four.
Nick Lloyd added: "The best way to teach children the road safety skills they need is to deliver real-world, practical lessons, so we have designed a suite of resources for teachers to enable them to do this.
"We want every child to have the opportunity to learn how to be a safe pedestrian."
---